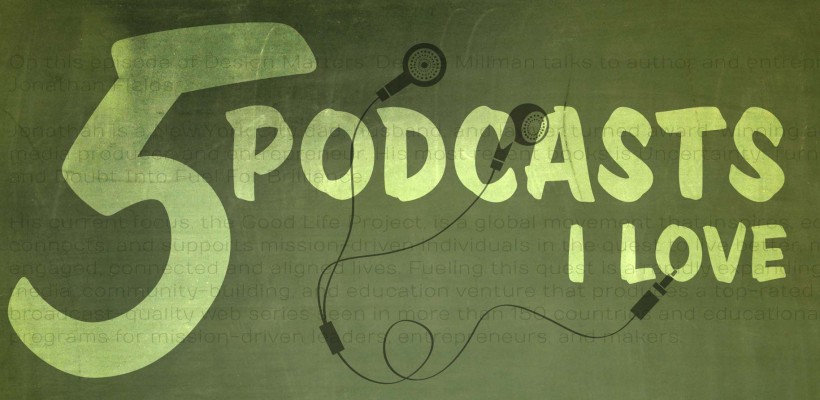 I was first introduced to podcasts by my friend, Jodi (who was also the one to convince me, years ago, that Facebook was not so hard to use and to quit my whining and just do it). She's pretty smart, that Jodi.
When I first ventured into this medium, the pickings that held my attention and had me looking forward to their next installment were a fairly slim. But now… Holy There's-Not-Enough-Time-in-the-Day, Batman, there are so many great ones out there I have no problem loading up the listening queue.
My criteria for those in my "library," which I manage via Stitcher, a podcast aggregator, are as follows:
has to have great content
has to be great storytelling
has to be decently produced
good sound design certainly enhances the listening experience
Those are the biggies. I'm not a fan of round-table discussions where everyone is talking over each other or shouting to be heard. I can't stand meandering monologues or "I'm doing this because I'm supposed to, but I really don't have anything of value to say today." I'm so outta there if it's boring or hard to listen to. If it can't keep my attention, no matter what the subject, then buh-bye.
All that preamble is to say… If you feel the same way, then maybe my taste will suit yours. And with that, here's a list to get you started or add to your existing faves…
RADIOLAB
Their description: Radiolab is a show about curiosity. Where sound illuminates ideas, and the boundaries blur between science, philosophy, and human experience. Radiolab is heard around the country on more than 450 NRP member stations.
My description: The best science and humanities class you'll ever have. Hosts Jad Abumrad and Robert Krulrich are masters at asking engaging questions, digging to the heart, and then having a mindful and, most often, opposing-view discussion. Their producers span the globe searching and talking to big brains, big thinkers and big dreamers. Then with expert storytelling and even more expert sound design, they delight and capture the listener. And if you're not careful, you're going to learn something in the process. Queue it up. Turn it on. And tell me I'm a liar.
SNAP JUDGEMENT
Their description: Dramatic toes, killer beats and the edgiest new talent in storytelling come together for a weekly radio hour hosted by Glynn Washington.
My description: All that and a bowl of ice cream. Glynn Washington is a great storyteller himself, with the grooviest personality and voice. Each thematic episode usually contains three or so stories, excellently produced. Sometimes funny. Sometimes emotional. Sometimes inspiring. Always worth it.
THE MOTH PODCAST
Their description: Since its launch in 1997, The Moth has presented thousands of true stories, told live and without notes, to standing-room-only crowds worldwide. Moth storytellers stand alone, under a spotlight, with only a microphone and a roomful of strangers. The storyteller and the audience embark on a high-wire act of shared experience, which is both terrifying and exhilarating. Since 2008, The Moth podcast has featured many of our favorite stories to live on Moth stages around the country.
My description: You'll feel like you're there, in the crowd, watching with your ears. Not a studio production like the previous two, but live, raw and an escape into human experience. I appreciate the courage it takes most people to get up and tell very intimate, funny, incredible, painful personal stories. This isn't open mic night… They all have passed some Moth test to make it to the stage. Go… Listen… And cheer them on.
DESIGN MATTERS with DEBBIE MILLMAN
Their description: The world's first podcast about design and an inquiry into the broader world of creative culture through wide-ranging conversations with designers, writers, artists, curators, musicians, and other luminaries of contemporary thought.
My description: Debbie Millman has a voice like your favorite sweater on a chilly fall night. It's comforting. It's snuggly. And you could wear it forever. Then top that with her engaging interview skills and exceptional industry knowledge. Not to mention, she must know EVERYONE who does anything in the world of design. She's my favorite teacher I wish I had.
DebbieMillman.com/DesignMatters
MYSTERY SHOW
Their description: A podcast where Starlee Kine solves mysteries. If you have a mystery in your life that you've always wanted solved, send an email to mysteries@gimletmedia.com. The only rule is that the answer to your mystery can't be found by just Googling.
My description: Nancy Drew meets Kristin Chenoweth. She's sweet, she's endearing, she's persistent. And she knows how to spin the story. I'm digging into my bag o'history to see what mysteries she can help me solve. I guarantee you'll want to do the same.
There are plenty more to come, but these will get you started. And if you do listen, please share your thoughts and your own podcast favorites on our Facebook page.