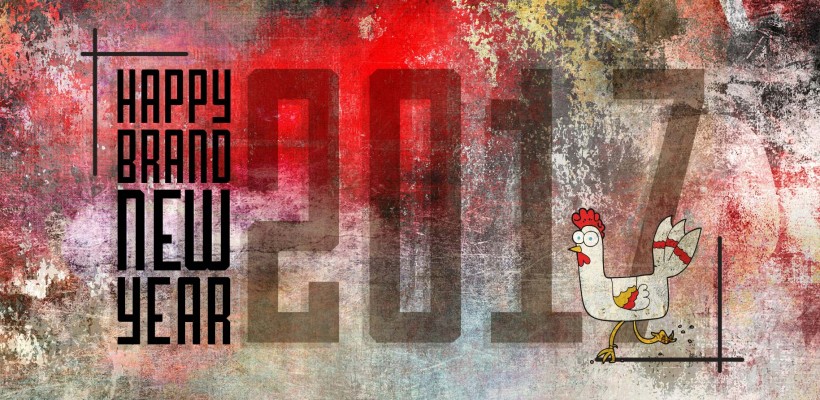 New Year's resolutions aren't just for individual people like you and me. As businesses, we can also resolve to be smarter, more strategic, more profitable, more community-minded, and so on. And it starts with your brand.
First, a successful brand comes from the inside, from a company's core, and it's infused throughout the organization. Your brand is your truth. It's what your company is all about—the promise it represents to consumers, the solution is offers them, and the actions you take to make good on your brand promise.
Did you know that Americans say they tell an average of nine people about good experiences? (1) Keep your promise to your customers and chances are, they'll bring you many more customers.
What steps can you take in 2017 to become the most amazing and successful brand you can be? Repeat after me:
2017 is the year I will…
1. Get specific about who I serve and why. 
When you market your brand to the masses, trying to be everything to everyone, you might just end up appealing to no one. Drill down, find your truth, and then reach out to the people who share that truth. Did you know that 64% of people cite shared values as the main reason they have a relationship with a brand? (2)
2. Make sure everyone in the company understands the mission of our business.
Once they do, these "brand ambassadors" can use the company's mission as its touchstone or north star to innovate and inspire, helping them make thoughtful, strategic decisions that strengthen the brand. Did you know that "mission-driven" companies have 30% higher levels of innovation and 40% higher levels of retention, and they tend to be first or second in their market segment? (3)
3. Simplify our branding language and get clear on the fundamental behaviors and beliefs that drive our brand.
That includes how you act, what you believe, how you go about your work, and even who gets hired in support of the brand. Did you know that 84% of B2B marketers said brand awareness is their top goal? (4)
4. Shift our marketing mindset from one of sales and promotion to one of engagement and enrichment.
This is all about reaching out and bringing real value to your target audiences through articles you write or share, blogs, reports, discussion forums, how-to videos, workshops, other forms of social connection, and much more. Did you know that 80% of consumers said "authenticity of content" is the most influential factor in their decision to become a follower of a brand? (5)
5. Become obsessed with measuring our marketing efforts.
If it can't be measured, then, perhaps, it may not be necessary. Did you know that only 54% of businesses have a B2B brand program in place for measuring brand perceptions? (6)
All this good advice is backed by numbers that support its value. Your brand is more important than ever. Build your brand and build your business. And make 2017 the year you break all the records.
Happy New Year from your friends at Red Chalk!
1 http://about.americanexpress.com/news/pr/2011/csbar.aspx
2 https://hbr.org/2012/05/three-myths-about-customer-eng
3 https://www.glassdoor.com/employers/popular-topics/hr-stats.htm
4 http://contentmarketinginstitute.com/wp-content/uploads/2014/10/2015_B2B_Research.pdf
5 http://www.slideshare.net/MathewSweezey/5-content-engagement-questions-answered<
6 https://www.b2binternational.com/publications/current-trends-in-the-world-of-b2b-marketing