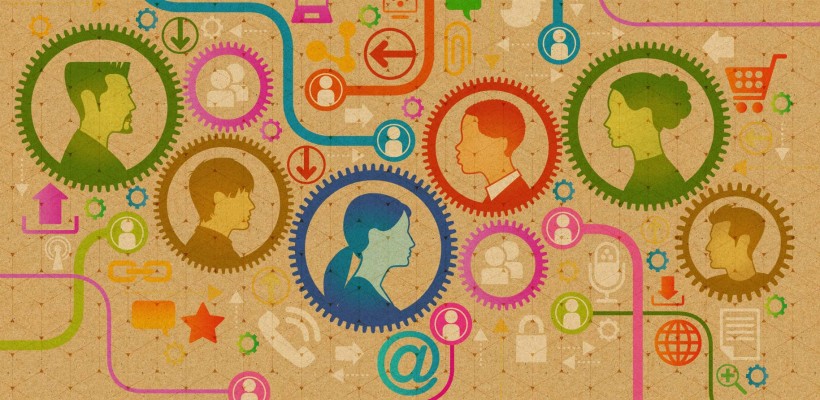 More often than not, the primary reason companies reach out to Red Chalk Studios is to develop a THING.
In our world, that THING will be a brand engagement MECHANISM or TOOL. Might be a website. Might be sales collateral. Might be packaging. Might be an advertising campaign. Might be a mobile app. Whatever it is, most people (and companies) start with, "We need this THING."
But that's not where we (the strategists) start. Before we jump into the design of anything, we want to know if  you've done the groundwork and planning necessary to ensure this is the RIGHT THING you need. We want to make sure we have all the information we need to devise strategic and creatively on-target solutions that will deliver the results you need. Wait. What results are you hoping for? How sure are you that this thing is the right strategy for your brand or your objectives?
If you've already developed your brand platform and have a strategically-developed marketing plan, then you're probably in a good position to say "this is why we need this THING, this is who we're trying to engage and this is how we're going to use it, this is the tone and voice it needs to have, this is how we're positioning ourselves against our competition, and here are the best avenues we're going to take to reach our audience."
If you haven't developed those, well, that's where we need to start. Let's take a few steps back and consider a couple things…
First, what exactly IS your brand?
This is the core, your truth, the story you tell every time someone engages with your business in some way. To build what we at Red Chalk Studios like to call your "Brand Foundation," we need to clearly and specifically determine all these things: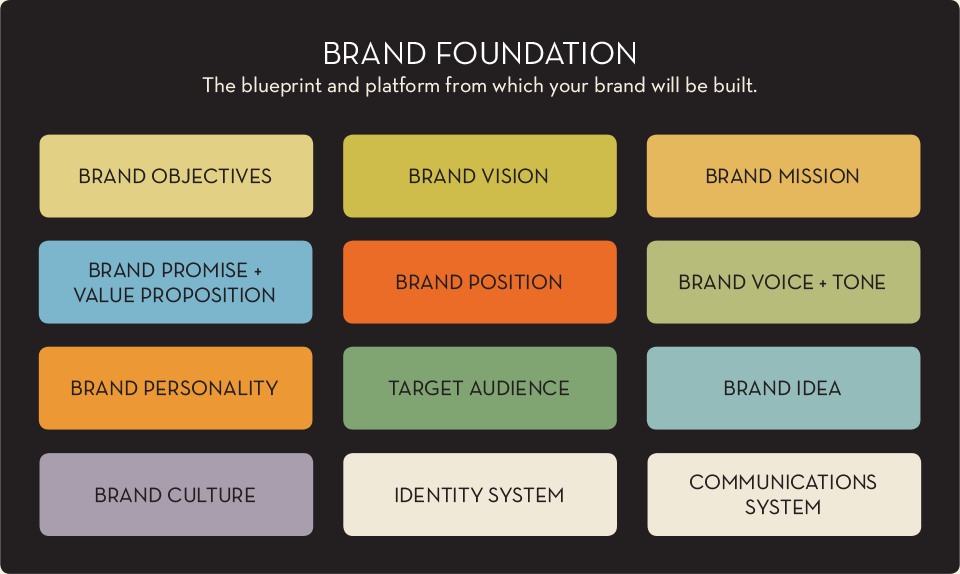 This is why an agency that specializes in branding can be so valuable to you.
Do you know your Brand Vision, Brand Position, Brand Idea, Brand Mission, Brand Personality, Brand Voice and Tone, and Brand Promise?
Do you know who your Target Audience is and can you visualize them?
What are your Objectives and your unique Value Proposition?
With that knowledge, have you STRATEGICALLY developed your Identity System and Communications System? Are you nurturing a Brand Culture?
If not, you should be thinking about all of these elements. Your competitors are.
A branding agency can guide you through an important process that helps you define your business and the environment in which it operates.
You and your team should know decisively who you are, who you are not, and what you stand for. You will then be able to address any messaging (internal or external) from a strong, consistent brand position.
We don't mean to sound overly dramatic, but building your brand foundation is critical. Do the work you need to do now (or as early as possible) and everything ever after should fall into place more easily. You will have the touchstone and road map you need to confidently move forward. Take a look at Coca-Cola, Pepsi, Royal Crown and Red Bull. They're all soft drinks, right? In fact, they're all colas. But they each have a very strong, very distinctive brand, and they couldn't continue to stay on brand and be competitive for so long without having solid brand foundations.
Once you have a new, existing or refreshed brand, it's time to put it out there.
What's your marketing plan? (Notice we didn't say "advertising plan.")
To start, marketing and advertising are not the same thing. They are not interchangeable. Maybe the confusion came from the widespread use of the term "ad agency" and the coolness factor associated with it. (Can we say "Mad Men"?) Who wouldn't want to sit around, drinking martinis and coming up with creative ad campaigns that made everyone a hero? The reality is, advertising is just one facet of marketing, the activity that encompasses all the many ways and processes a business can deliver messages to target markets.
For example, when Red Chalk Studios is developing a client's marketing strategy, we're considering all this: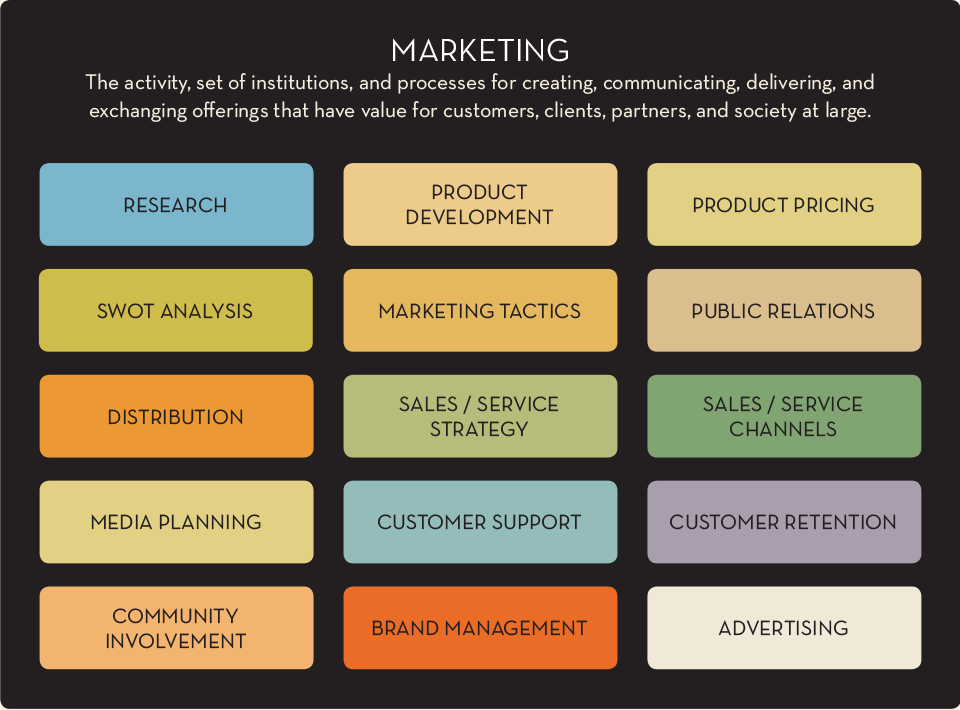 It's so much more than creating ads. It includes doing Research and a SWOT Analysis. It's Media Planning and Public Relations and Customer Support. It's determining Distribution channels and, yes, Advertising. It even (and maybe most especially) includes Brand Management. Plus much more.
Marketing is all about knowledge and strategy, and determining the best ways to reach those you want to influence combined with the best ways to tell your story most convincingly. Easy peasy, right? (And may I introduce you to a marketing agency?)
Be sure you have a proper engagement strategy.
How do your customers/clients/members/employees/people experience your brand? Or rather, what is the brand experience you are offering them? It's an important consideration. For one, you never want to waste an opportunity to connect with someone. And two, if you're not reaching out and orchestrating a positive experience, a potential customer may be having a negative experience—or you may not be on their radar at all, which is even worse.
You need to be proactive about ways people can engage with your brand, whether it's through a product you've developed, a service you offer, a social media post, a website or landing pages, an event, the design of your space, the signs on your walls, or the music you play.
Some of the ways Red Chalk Studios promotes brand engagement include: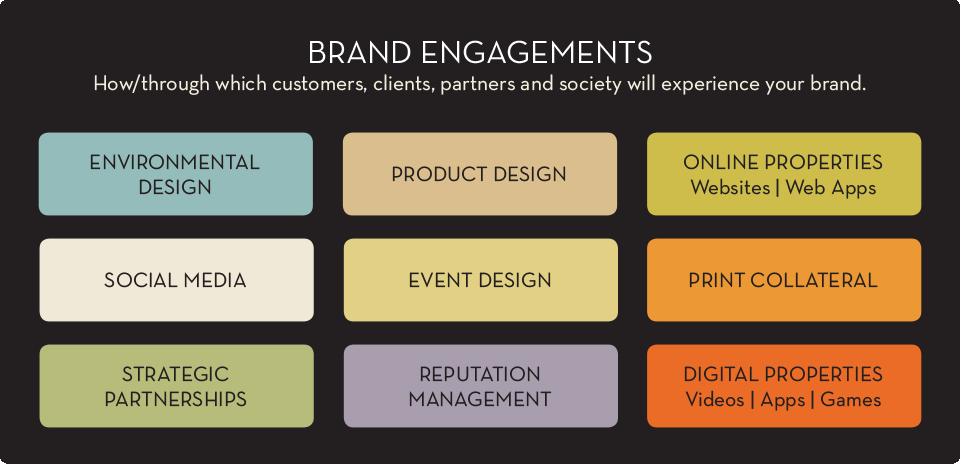 This is all about connection. As a business, you want to attract customers, retaining and developing a stronger, deeper relationship with them, and then ultimately converting them into your brand ambassadors.
Today, sharing and participation is something that's happening every minute and what you do through brand engagement activities determines whether you're the life of the party…or a wallflower.
Know who you're working with.
How are you building or cultivating your brand? Do you have a complete marketing strategy? And how are you engaging with your customers? If you're interested in branding or marketing your business, be sure you're partnering with professionals who specialize in and understand the difference between the two, who live and breathe branding as truthful strategic positioning, and marketing as tactical action.
It matters.