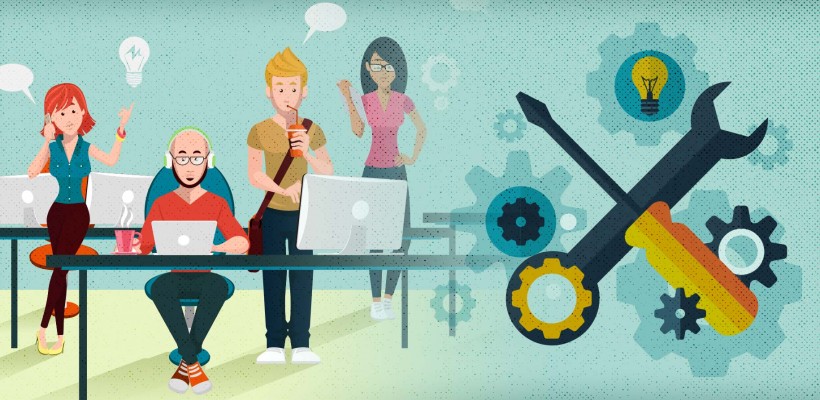 Quick question. How many balls do you have up in the air? How many plates are you spinning? How many people and projects are you juggling? If you're like, well, most of us in this day and age, you're so busy, it's hard to stay organized.
Red Chalk Studios is a very busy branding, marketing and advertising agency, but we've worked hard to find the management tools that allow us to use our valuable time doing the thinking, researching, strategizing, designing, writing and assessing that help keep us an essential partner to our clients.
We'd like to share what we use and what we've learned with you…
Function Point is project management software created especially for advertising agencies and design studios. It's a workflow and productivity work horse.
Function Point reduces the complexity of operating professional services by connecting each stage of project management in one place. From first touch to final signature, Function Point provides a clear view into profitability. It is the heartbeat of your business.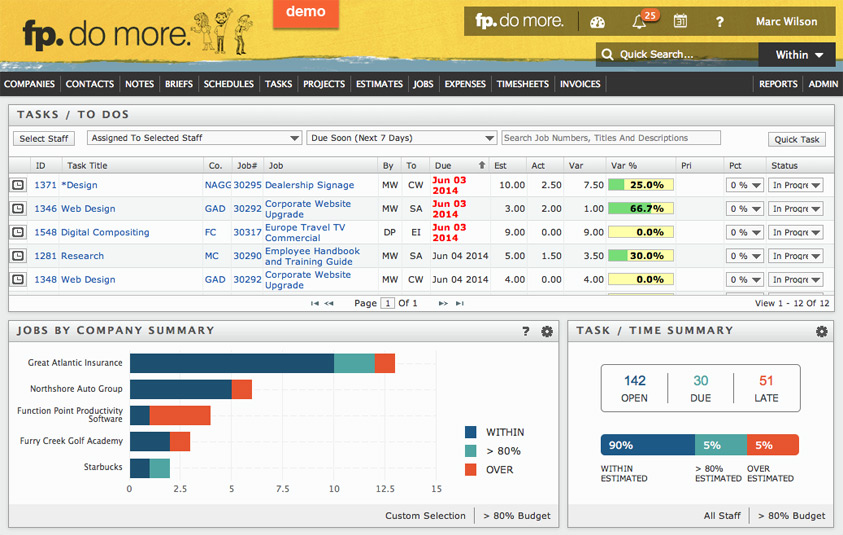 This extremely robust program is a useful tool for all of our team (and all the hats we wear): business owner, account manager, creative, traffic manager, bookkeeper, etc. It is our primary "manager" of the entire lifecycle of a project: estimating, detailing the job particulars, scheduling hours with the project team, tracking hours, tracking expenses, and invoicing.
Need reporting? Oh, it'll create reports detailing everyone from work status, production progress and financial health.
While we only use it for about 60% of its full capability, it's a fab tool for tracking all aspects of a job and retaining historical data. And like most project management programs, it took a significant number of hours to set up all of our accounts and services, but once done, it's proven to be invaluable. But it didn't solve all of our problems and needs. So we have a couple more…
CALENDAR FOR PROJECT & TEAM MANAGEMENT: Harvest Forecast
While Forecast does have a calendar in it's toolbox, it doesn't give us the visual representation and flexibility we need to manage multiple projects with multiple team members. Enter Harvest Forecast. What we love about Forecast is the ability to see everyone's schedule at a glance, collectively, so we can determine work load and schedule work accordingly. Another great feature is being having both project and team views of the calendar.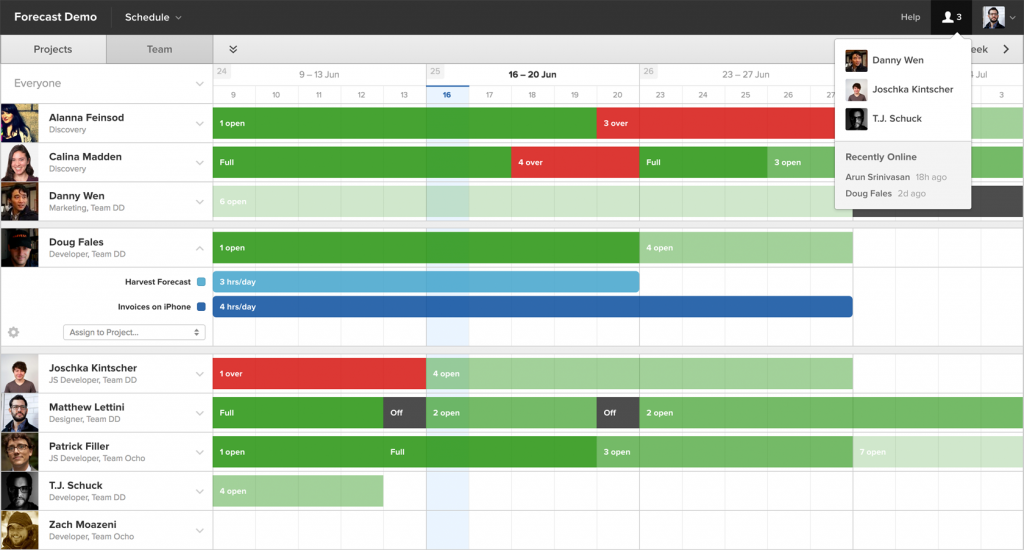 Visualize your plans. Map out your plans and see them with clarity in Forecast. Know how busy or available your team is at a glance. Keep key dates on top of everyone's minds as you push projects forward. With two ways to view your plan, the schedule is clearer than ever.

Everyone on the same page. Collaborate with project managers and share the plan with the entire team. With Forecast as the central place for your plans, there's minimal confusion about who's working on what and when.
Again, because we are visual people, we looked for a solution to manage the workflow details of every project. While Function Point allows for the same information to be collected, with workflows and time management, it's not the visual system we craved. Then we found Trello.
Through colorful boards and cards (envision movable sticky notes) we are able to quickly manage project tasks, assign team members, create checklists, add attachments and archive final files. Best of all, we use it as a team communication tool to avoid discussions and attachments getting lost and overlooked in emails.
It allows us to more easily follow up so nothing gets missed. We're still getting used to it, and figuring out the most economical way to use all three tools, but being able to group together everything that is pertinent to a project is a huge plus.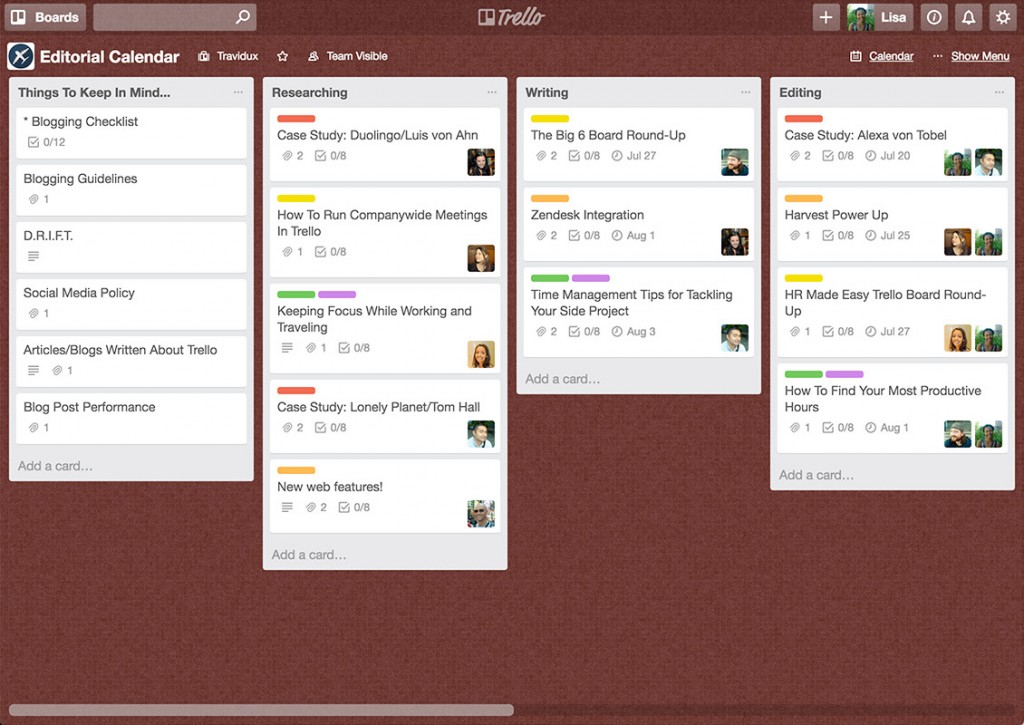 Information At A Glance. Dive into the details by adding comments, attachments, and more directly to Trello cards. Collaborate on projects from beginning to end.

Work With Any Team. Whether it's for work, a side project or even the next family vacation, Trello helps your team stay organized.

A Productivity Platform. Integrate the apps your team already uses directly into your workflow. Power-Ups turn Trello boards into living applications to meet your team's unique business needs.
Others
At this point, Google Drive, Dropbox and Join.Me are all essential tools Red Chalk Studios uses every day, and if they were taken away, we'd feel as if we were working with one hand tied behind our backs. Seriously.
There are lots of organizational tools out there and we're always looking for ways to improve our productivity. What keeps you sane?