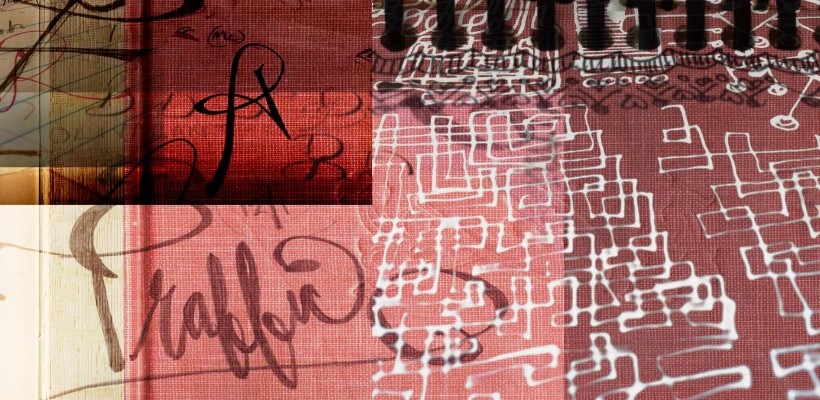 Kim and I burst out laughing when we went over some notes she took during a client meeting. She actually wrote: "Note to self…" Of course the thought is, who else would she be writing to in her own notebook? And we then had a hilarious conversation (which would have been a great podcast), and arrived at the conclusion that saying "note to self" out loud is the only acceptable way to use those words.
That led to a discussion of note-taking and then to doodling…
What do you write—or draw—in your notes? I make lots of arrows and spirals. I've learned that drawing arrows supposedly indicates a person who is aggressively ambitious. Hmm. Or maybe, I just need direction. Kim is a big doodler: "I typically doodle when I'm on the phone," she says. "I don't have a theme; they're all over the place."
Her doodles are much prettier than mine.
And Derek, well, Derek doodles beautiful letters and words, and is anyone surprised? He is a typographic artist in every way.
Studies show that while the Oxford English Dictionary defines a doodle as a "drawing made absentmindedly," the act of doodling does, in fact, engage the mind in a way that helps us think. It keeps us occupied and focused. According to a 2009 study in Applied Cognitive Psychology, doodling increases your brain's retention of information by a whopping 29%.
Another study says a doodle can spark a "dialogue between the mind and the hand holding a pencil and the eyes that perceive the marks on paper." Gabriela Goldschmidt, a professor emeritus of architecture at the Technion-Israel Institute of Technology in Haifa and a researcher on learning techniques of design led this study in 2014.
How important is all this? Let's just say that today, Friday, February 5th, is National Doodle Day.
So the next time you find your thoughts wandering during a long meeting, don't get frustrated. Instead, get creative and draw the information you're trying to absorb.
That's especially important for graphic design and marketing professionals. "Info-doodles" can help people understand complicated messages or help them grasp ideas more quickly.
And in this day and age, that's a very good thing.
Note to self: doodle more.