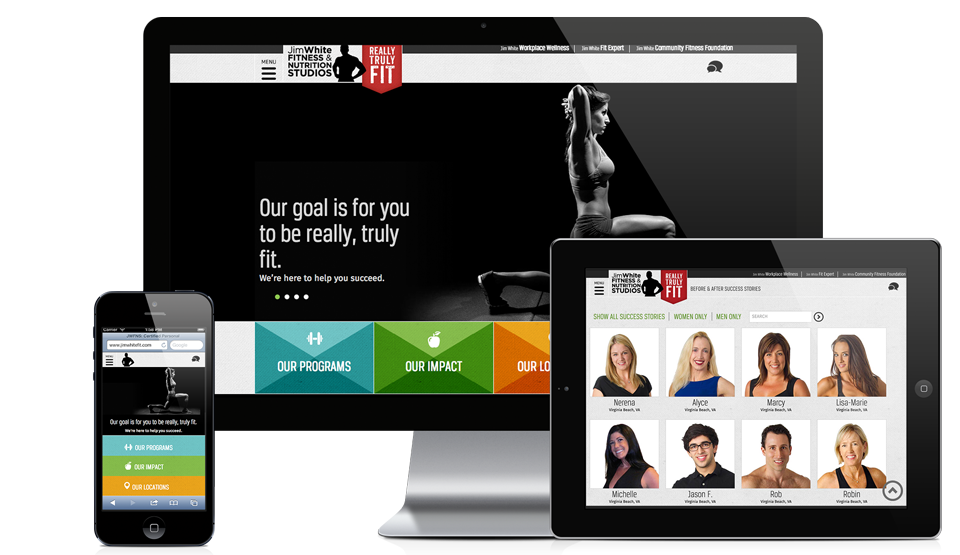 Red Chalk has been managing the Jim White Fitness & Nutrition Studios brand since 2003. The JWFNS business has changed and grown quite a bit since then, and we have directed and guided corporate communications, marketing tools, advertising, social media, websites, program development and new marketing strategies. We also collaborated with an app developer to provide branding and creative support for the JWFNS app, released in 2012.
Refining the brand as JWFNS focused on its niche, Red Chalk Studios developed the "Really Truly Fit" promise, one that drills down to the core of the JWFNS message. Their programs offer clients real results through weight-loss and fitness practices based on truth and science, not magic pills and fad diets. This "real" brand direction highlights real people and their success stories. The strong brand direction is supported in the way we redesigned the interior of the Virginia Beach studios, strategically incorporating colors, digital displays, wall graphics and key messaging throughout. The redesign of the studio space was overwhelmingly applauded. Red Chalk also designed the newest studio space in Norfolk, bringing in brand design elements, but incorporating an edgier, more urban feel.
In addition to JWFNS, Red Chalk designed and manages the Jim White Fit Expert website and the Jim White Workplace Wellness brand and associated marketing. Red Chalk also provides pro bono support for the Jim White Fitness Foundation website, created the logo for its LIFT program and all marketing collateral.
"Words can't express what Red Chalk Studios has done for my business. Not only did they develop the best fitness website in Hampton Roads, but they also created a brand that has been noticed all over the country.
As a small business, it can be difficult getting the word out to a vast audience. RCS saw my vision, developed my brand and launched it out to the world. Since our website was developed in 2004, we have received rave reviews for its design and our branding. They've crafted on-target messaging, designed our environmental spaces, developed all of our marketing and advertising collateral, and more. As we grew, RCS grew with us. Everything they suggested we do, we did, and every effort was successful.
When you have RCS in your corner, you're not just getting the best branding specialists in the business, you're getting a company that will help support, promote and grow your business to the top of its industry!"
Jim White, Owner, Jim White Fitness & Nutrition Studios