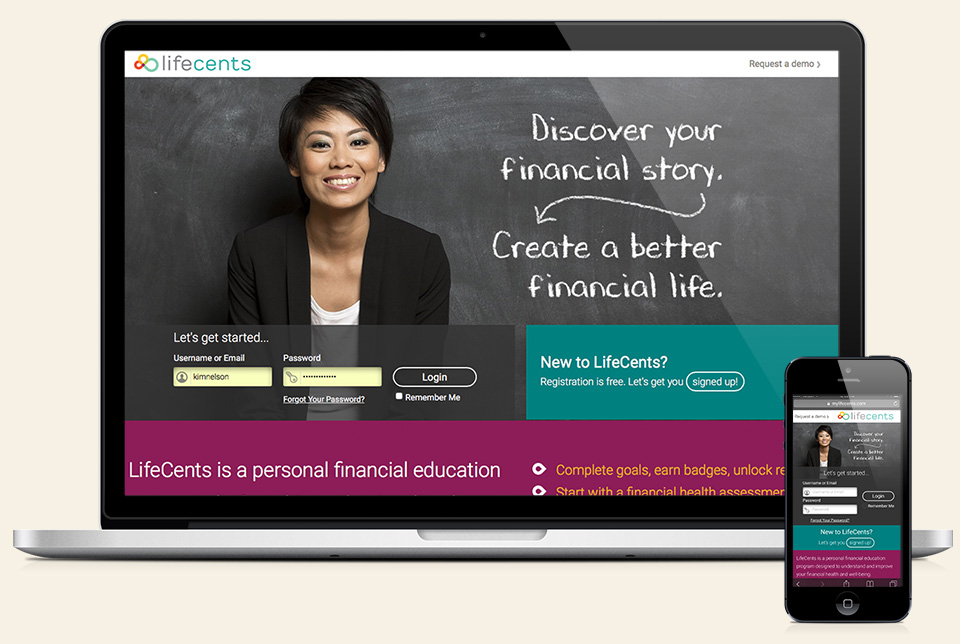 LifeCents is a personal financial education program designed to understand and improve your financial health and well-being.
LifeCents is breaking new ground with its approach to how to educate, motivate and connect its users to relevant resources, all in an effort to improve their financial knowledge, habits and mindset. And we could all benefit from better understanding our finances and the choices we make, couldn't we?
After having built the inaugural program and realizing the interface needed an overhaul, FELA sought out Red Chalk Studios to improve their user interface design. In the short-term, we did just that… We looked at how to improve the design of the brand presentation, page layouts and design elements. In addition, we redesigned their logo to better represent their brand purpose.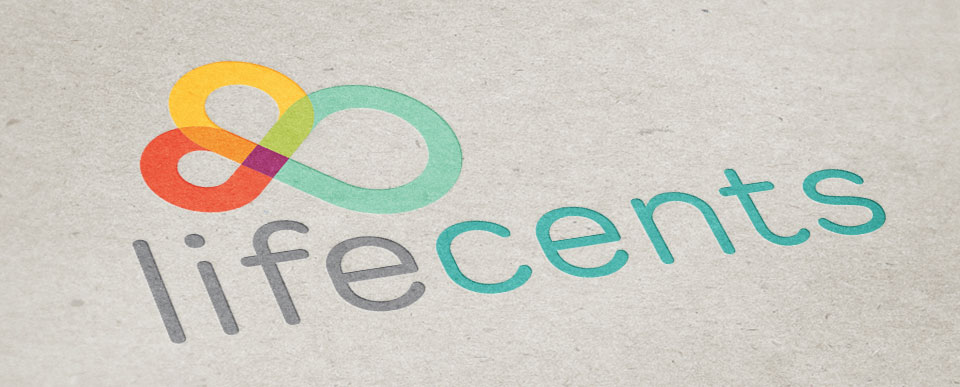 The first steps were to conduct a workshop with the client's team to review the program's user flow, challenges and objectives for the interface overhaul.
Exercises we conducted in this workshop were to flowchart out the user experience (which is non-linear), collectively agree on what was on-brand, off-brand and aspirational, as well as review ideas for interface design and functionality. This provided the base information needed to 1) make sure all of our team was on the same page, and 2) provide the foundation for us to develop strategies that were based on knowing the big picture.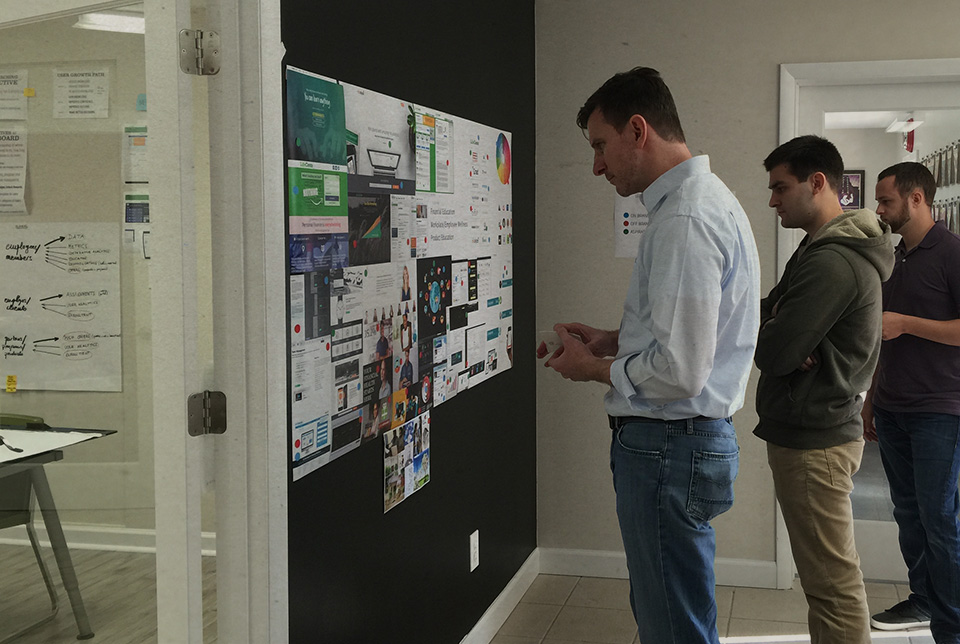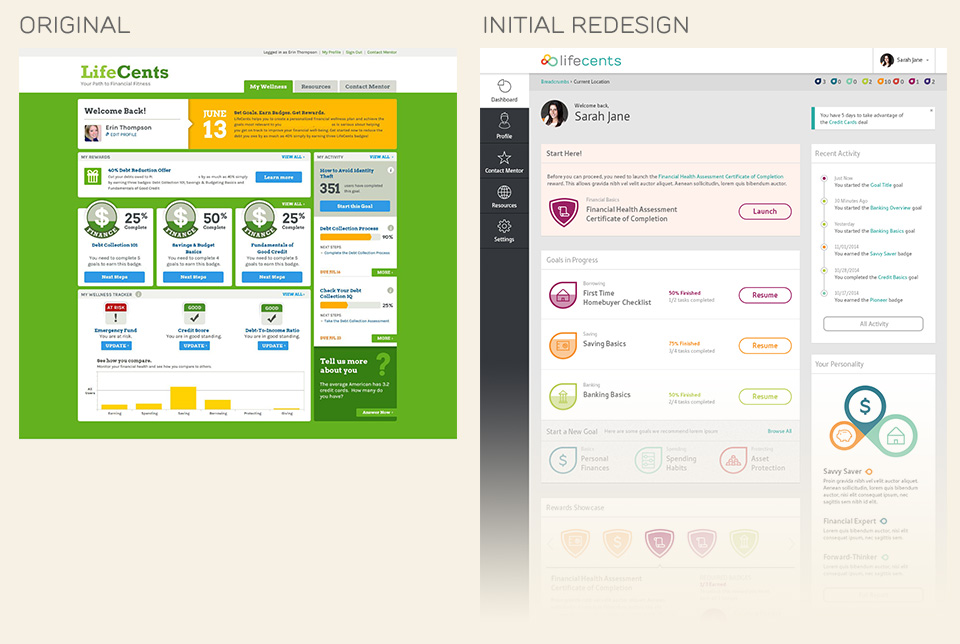 In the process of conducting this workshop, we were instrumental in helping the client realize there needed to be a deeper dive and restructuring of content flow, motivational devices and their delivery in order to fully optimize the experience. The program development team had already done an incredible job in coming up with a truly innovative approach to education. The problem was the program has so many mechanisms for content delivery, it was trying to do too much at any one time in the process and, consequently, was overwhelming for the user. Even with a streamlined page layout and design, the experience needed to be rethought and reworked.
So we embarked on a journey into the true heart of the beast, and came out with a system that we, the client, and their customers agree is a much stronger and engaging experience.
UNDERSTANDING THE LIFECENTS WORLD & USER EXPERIENCE OBJECTIVES
With the opportunity to take this deep dive, we backed all the way up and charted out intentions for the program, the user, and engagement strategies.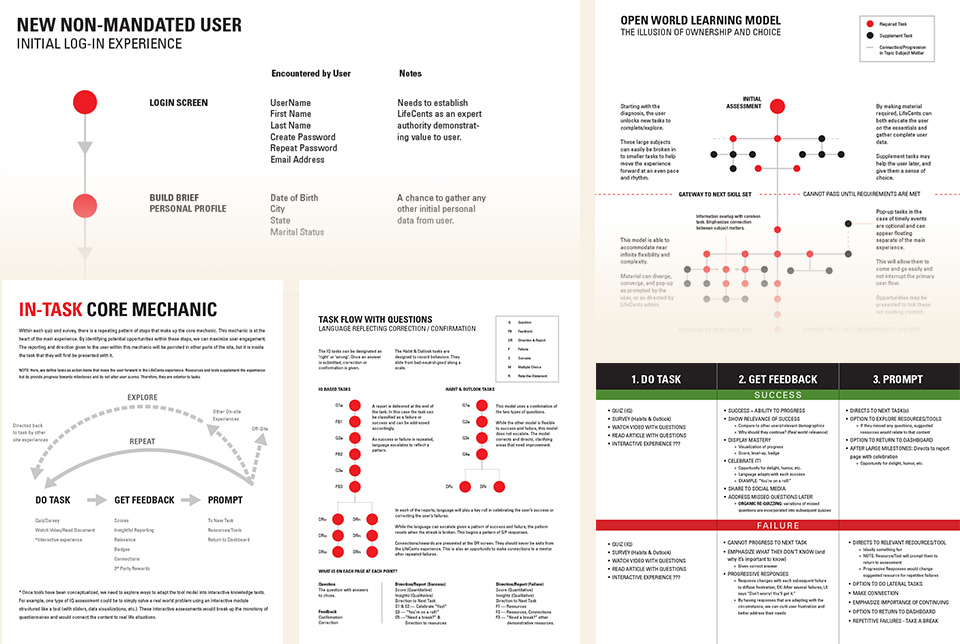 OUR OBJECTIVES
The objectives for us were to help users understand where they are in the LifeCents world, when they have triggered new content (goals, badges, rewards, connections) in the course of going through the LifeCents assessment and learning experience, when their actions have affected their financial health scores (knowledge, habits, mindset), why something was triggered, and give them quicker access to it. The program is constantly evaluating, giving feedback and providing action items.
CONTENT RESTRUCTURING
In the original integration of LifeCents, too much content was housed together and under ambiguous titles. We worked to identify better ways to structure, design and name the content organization so information was more accessible and more easily understood.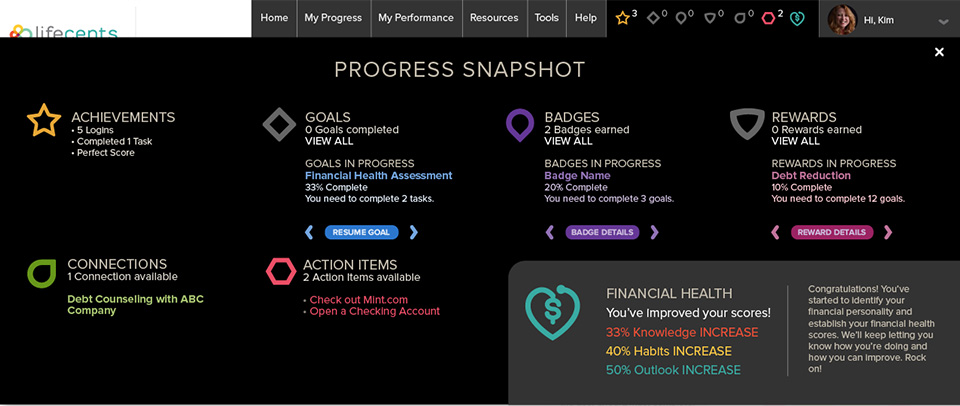 FIRST TIME LOG-IN
After wireframing out the site pages and honing in on on-page efficiencies, we moved to design. The goal for the Home/Landing page, previously known as the Dashboard, was to strip it down to its essentials so the user has a very clear idea of what their first steps should be. In addition, we devised a first-time user "walkthrough" experience to highlight what the user has access to, what it's for, and why. Ultimately, the system should be providing an introduction to new systems as the user experiences new pages and systems during their progression.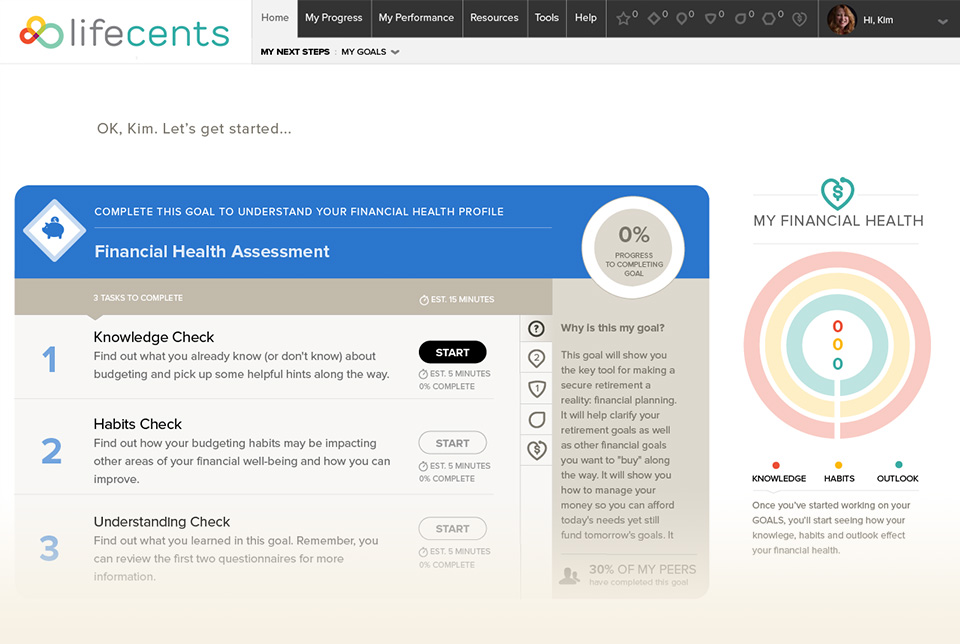 ASSESSMENT / EDUCATION TASK
A big difference between the original version and our new strategy was to immerse the user once they had entered the assessment / educational part of the program. We wanted to give the user as few distractions as possible so they could focus on the task at hand. One way to do that was to have this content take over the entire page, while compartmentalizing the supplementary information and feedback. (This included why they were being asked these questions, what content was triggered based on their answers, what connection opportunities were being triggered, additional resources to improve their knowledge and understanding of the subject and/or consequences of their habits, and how their answers affect their overall financial health.) You can see how easy it would be to get bogged down in the details.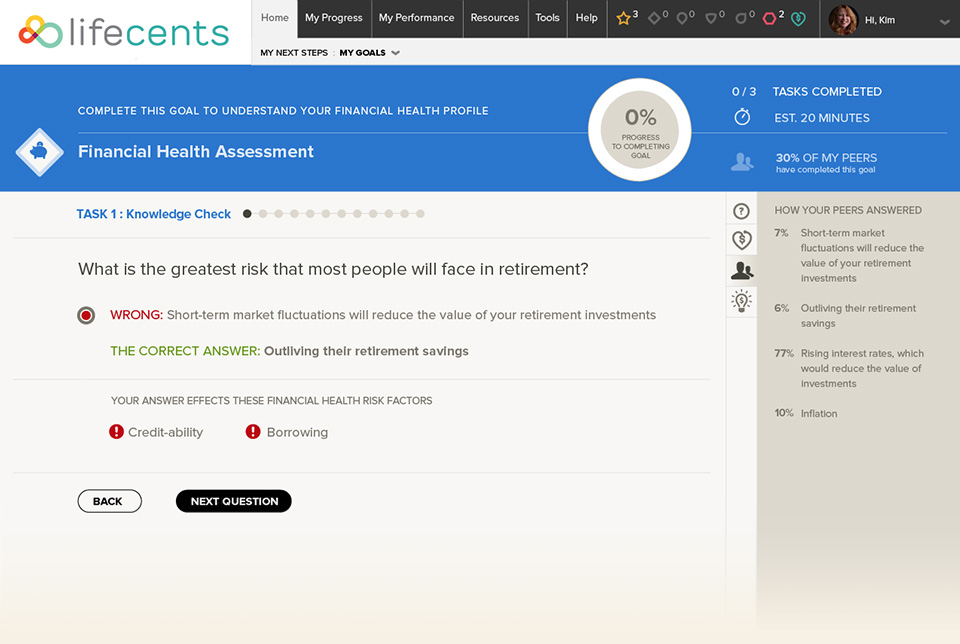 PROGRESS REPORTING
In addition to providing the user with an enjoyable experience (even when it's financial education!), we wanted to make sure our progress reporting system was easily accessible, navigated and understood. It's a huge amount of information the user has access to, and streamlining the system from stem to stern was critical.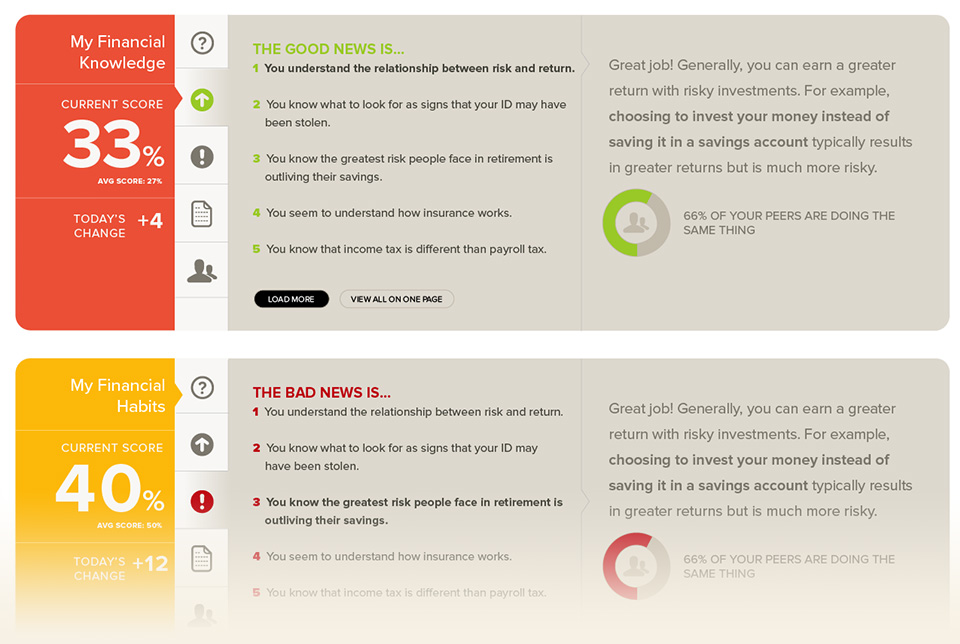 These are just a few of our solutions to help make this hugely complex system shine. We've worked hard to make it look as simple as possible. We continue to work with the LifeCents team to improve the experience and design, and undertake new challenges, such as designing a Financial Retirement Calculator like no other.
In the meantime, the client has reported significantly increased engagement times and very positive feedback.
Pages Per Session : Increased 13.98%
Avg. Session Duration : Increased 64.50% (16:04 minutes vs. 9:46)
Bounce Rate : Decreased 18.20%  (28.8% vs. 35.2%)
At this time, LifeCents is only offered to companies or programs, not directly to consumers. Check into MyLifecents.com for benefits and how to schedule a demo for your company. Of course, if you have a project that needs powerful solutions like this, schedule a demo with us!