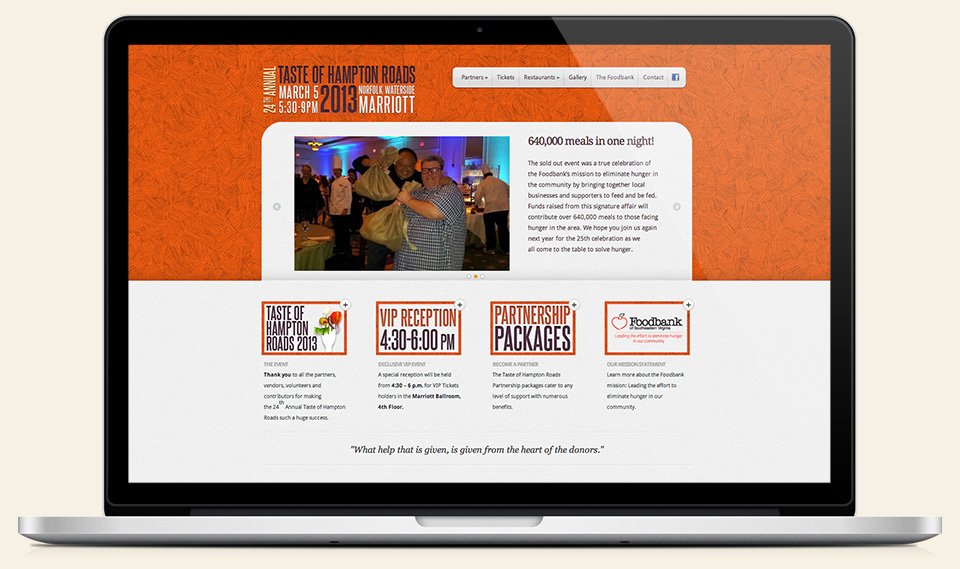 When the Foodbank of Southeastern Virginia came to us to help promote Taste of Hampton Roads, a signature yearly fundraising event for the local Foodbank, we were ecstatic not only to assist with this most worthy of causes, but also for the chance to give an event that had been around for 22 years a more strategic marketing approach.
For starters, we wanted to make sure everyone knew what kind of event this was and who it was benefiting. Strategic messaging started with key headlines, which were carried through the sponsorship solicitations and event promotions. The idea behind the visual branding was to create a system that, with minor messaging shifts, could be picked up in subsequent years, all the while creating stronger brand awareness and keeping lighter demands on the Foodbank's marketing budget.
In addition to this complete rebranding exercise, we redesigned the Taste of Hampton Roads website and improved its functionality to allow for online ticket sales and an on-site mobile app check-in and registration process.
It took many people, many restaurants and many organizations to make 2012's Taste of Hampton Roads "the most successful event in the agency's history." And the 2013 event was an even bigger success. We're very proud to have played our part!
Read the HamptonRoadsSocial.com article about the event