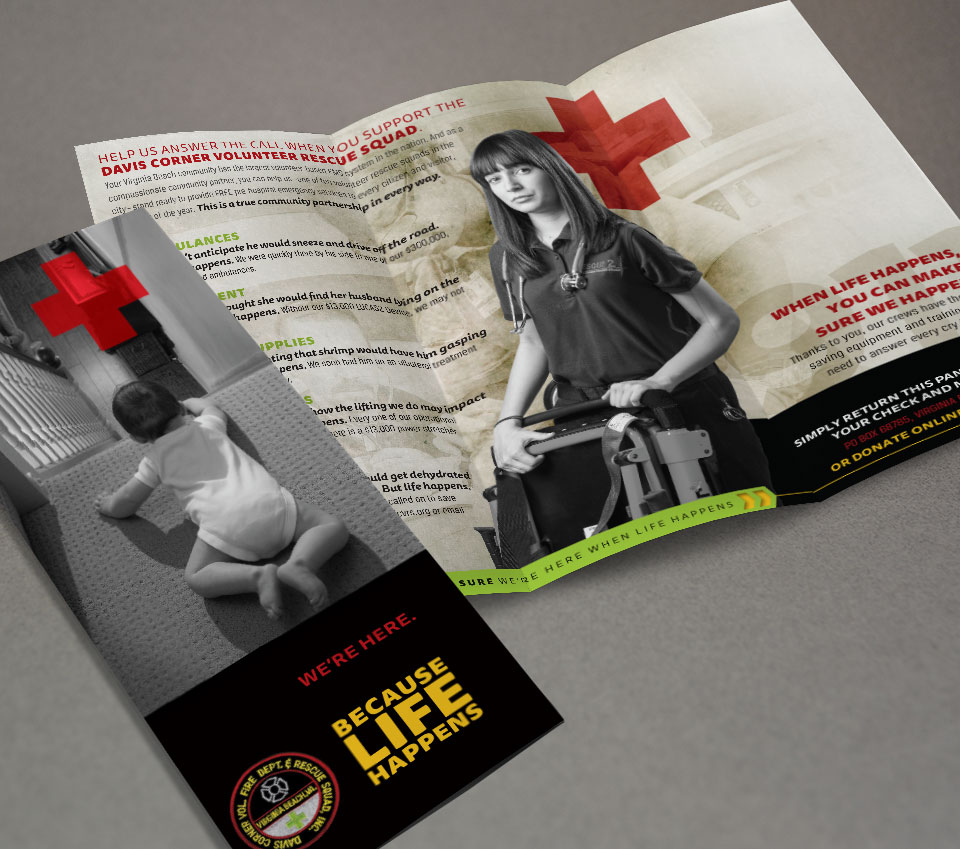 Virginia Beach is home to the nation's largest volunteer-based rescue squad system. In that system are ten individual rescue squads, each its own state agency and non-profit organization. Because of the way the squads were formed many years ago, and the loyalty and independence they are so proud of, each squad works to raise donations from those they have helped, as well as from the homes and businesses surrounding each station.
In the summer of 2014, a group of volunteers representing six different squads came together to form the Collaborative Fund Drive Committee, a careful step forward to working together to raise money.
Red Chalk Studios was chosen by committee members to be a part of this effort.
Red Chalk Studios met with committee members for information, and presented concepts and layouts, working with squad members who were not familiar with the marketing process. The concept that was agreed to by all promoted the volunteer system by saying, "We've got your backs, Virginia Beach" with the hero image of the volunteer on the cover. This idea was strengthened by emphasizing the community's partnership in the copy and the "pay it forward" call to action.
After a special photoshoot, paid for by the Virginia Beach Rescue Squad Foundation (where portraits of different squad members were made by photographer Glen McClure, who donated the images), fall fund drive brochures were mailed out in November 2014.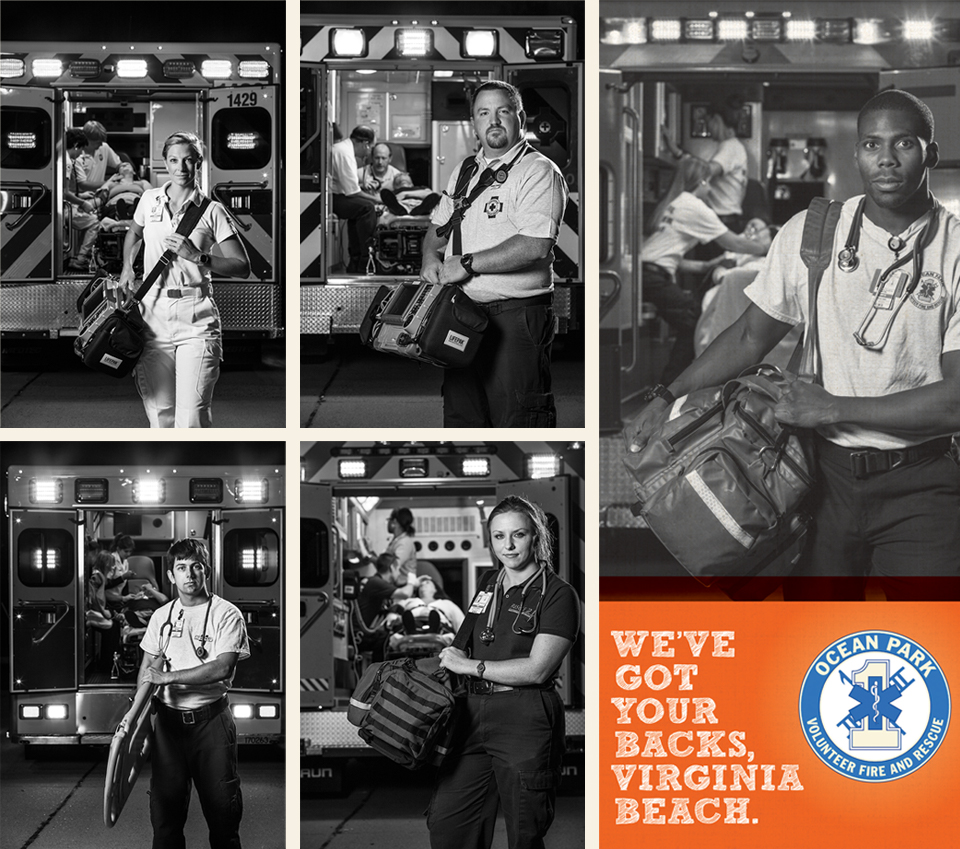 In 2015, the concept evolved into "We're here. Because life happens." The compelling image on the cover tells a story, capturing a scene that shows something traumatic is about to happen. Will it really happen? And what if it does? The hero image of a rescue volunteer is now the "answer" and is on the inside of the brochure.
The brochures are revised to reflect individual squads, and Red Chalk Studios manages the concept, design, copy, photography, printing, mailing and invoicing for the volunteers.
Also, the fund drive brochures are supported by advertising campaigns—created by Rubin Communications and paid for by the Foundation—that run at the same time the brochures are mailed out. Red Chalk Studios and Rubin Communications work together to promote each fund drive's concept in order to maximize efforts.
Have we made an impact?
Comparing the fund drive numbers of November 2013 before Red Chalk Studios was involved to November 2014, the Virginia Beach Volunteer Rescue Squad saw an increase of 32.7% in donations. Subsequent fund drives have continued to show an increase in donations.
Since then Red Chalk Studios has continued to work with the changing members of the Collaborative Fund Drive Committee. We're looking forward to continuing this important work that supports our rescue volunteers.