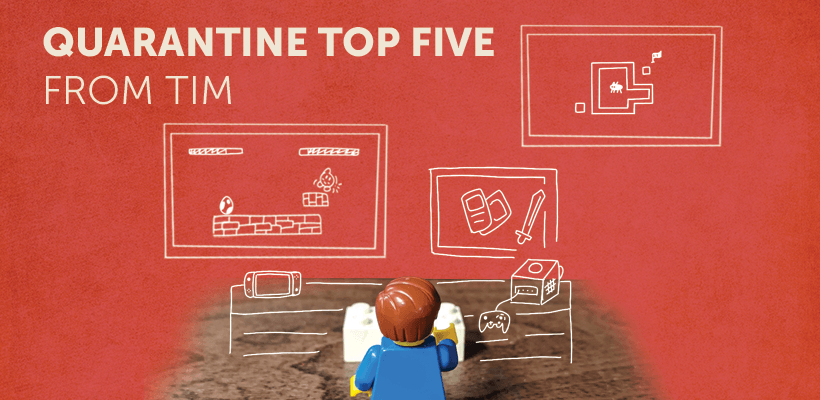 Art director Tim would argue that dollar per hour entertained, you'll have a hard time topping a great video game. Whether you love puzzles, unique vessels for story telling, or have a viscous competitive spirit, there is an outstanding game out there for you.
Here are some of his top recommendations for gamers and non-gamers alike:
If you love puzzle games, this is a must-play. While it looks downright basic on the surface, it is a deceptively deep game. Baba Is You has you (usually Baba) rearranging the rules of the world to defeat the ingenious machination of the games creator. It is best simply experienced first hand. This game has plenty of mind-bending content to keep you busy for a long time.
On average, you'll get 130 hours of monster-killing, morally-grey story telling, and tons of detailed world-building goodness. I'm just starting my journey on this after much procrastination and sale hunting, but it is already living up to the hype. I look forward to engaging in all that juicy content I've been hearing about for so long. Whether you love or hate the Witcher show or books, The Witcher 3 is its own work of art that is worth a look.
(Currently 70% off)
This simple little digital card game is innocuous enough at first glance. It is rogue-like where you play cards to defeat monsters. Sounds straightforward, right? The execution is down-right addictive, though. With each playthrough, you get a better hold of the mechanics, get so close to that overpowered combo you're looking for, or find some new strategy that you're sure you can dominate the game with. It is light on your computer, not too pricey, and unhealthily replayable.
This lovely Switch game about adorably illustrated bugs living in the ruins of a fallen empire soared up my favorite game list with its tight mechanics, mysterious story, and stunning aesthetics. This game about exploration was clearly a labor of love by the dev team. There are a lot of very difficult or old-school games in the same genre of Hollow Knight that are great in their own right, but may not be my first recommendation. I'd recommend Hollow Knight to anyone with even the slightest interest in games, art, or worldbuilding.
5. Super Smash Bros Melee
Okay, if you don't have this classic in your collection already, it is a little tougher to grab, compared to my other suggestions. However, if you have a copy and an old Gamecube or Wii buried somewhere, dig those bad boys out and challenge your quarantine buddies to a couple of matches. It is a great romp on the surface, but the real fun is unlocked once you get past the already brilliant party-game exterior and find the incredibly complex competitive game that lies underneath. My siblings, friends, girlfriend and I have spent countless hours making and settling feuds, mastering new mental and fine-motor skills, and simply sharing fun experiences together. You definitely can't get an emulator online… This one can only be played on GameCube.
We hope you're getting your gaming on while stuck at home so we want to hear your Top 5 List. Head on over to any of Red Chalk Studio's social media channels and share! Facebook, Instagram or LinkedIn.