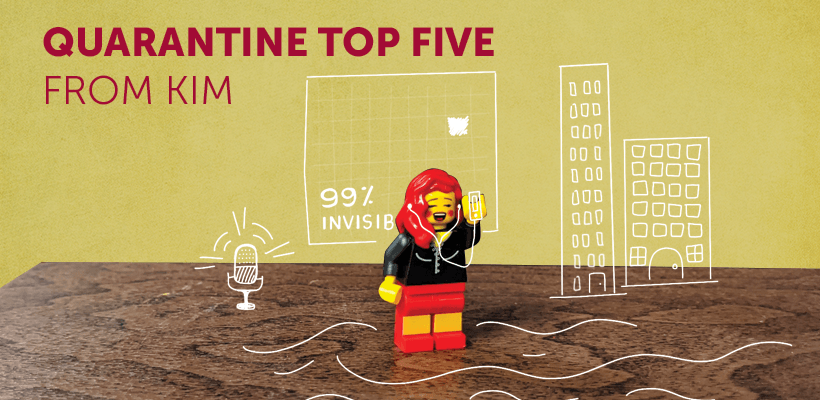 There's no excuse for quarantine boredom!
A sucker for good storytelling, Kim, our Chief Coffee Consumer and podcast lover, thinks now's a great time to treat yourself to the magical, enlightening and fascinating world of 99% Invisible. These selected episodes are great listens and guaranteed to take you out of your confinement misery and free your mind to learn about something other than how to not hoard toilet paper.
1. Episode 376: The Great Bitter Lake Association
You think our quarantine is miserable? Consider the poor sailors and shipping companies stuck in the Suez Canal in 1967 when the 6-day War began. 6 days… Hah! Shipping traffic stopped in the Canal, and any ships in transit when the war started were in lock-down for EIGHT YEARS. Sailors rotated in and out, but the first crew was stuck for many months. And what did they do besides drinking and playing games? Started a philately club. Yeah… Stamps.
2. Episode 373: The Kirkbright Plan
I love an abandoned asylum just like the next person, and knowing the history and purpose of its architectural strategy adds an extra layer of appreciation. This exploration into the world of Dr. Kirkbright and our country's phase of creating massive psychiatric institutions have given me a deeper love and perspective for the beauty in those that are still around. And decaying.
Flooding is an issue near and dear to our Hampton Roads hearts, as it was, and continues to be, in the hearts of those living around the Mississippi River. What you might not know is that in 1943, the Army Corps of Engineers constructed a 1/2000 scale model of the 1.25 million square miles of the Mississippi River — the model itself spanning more than 200 acres — to test water movement and flood-diverting tactics. The model was so big that the only way to see all of it at once was from a four-story observation tower. (And yes, it is now abandoned and decaying in the woods… Let's go find it!)
Have you been to NYC and seen statue after statue of what appears to be the same woman? That is not a mind trick. Audrey Munson was the model for many artists and her likeness is embedded in the fabric of the city's architecture. Success story? Hardly. But definitely a fascinating one…
5. Episode 61: A Series of Tubes
If the internet ever breaks, we can always go back to sending documents and goods via pneumatics. Those suck-em-up tubes at the bank drive-through line were once used for much more than a method for handing over deposits and lollipops while remaining in the comfort of your automobile. An example is the non-defunct Poste Pneumatique in Paris. It employed a pneumatic delivery network for moving love letters and articles of incorporation across the city. Wild idea? You betcha!
We hope you're getting your podcasting on while stuck at home so we want to hear your Top 5 List. Head on over to any of Red Chalk Studio's social media channels and share! Facebook, Instagram or LinkedIn.