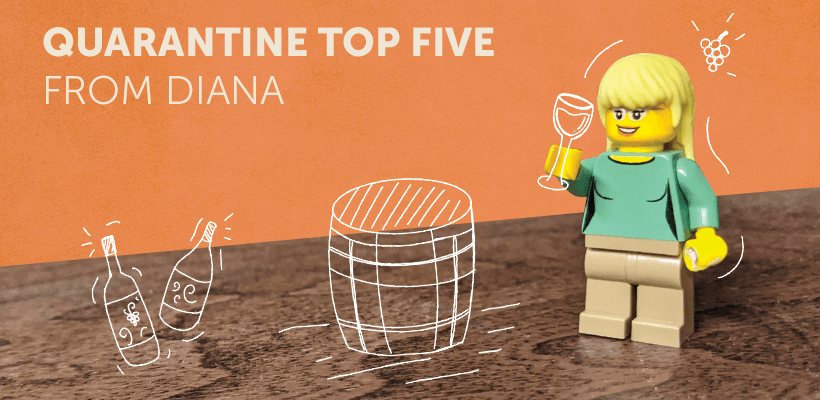 Tough times call for strong wines. Need more Quarantwine at your covid-cabana? Our Digital Marketing Director Diana brings you her…
Top 5 Quarantine Wine "Must Drink" List. Cheers!
1. Atha Ruja Cannonau Di Sardegna Doc 2015
Support local businesses by buying this at Tinto's online for $29.75. I'm obsessed with cannonau right now. It's a smooth, crowd pleasing red wine originating from Italy. It's soft and fruity without being overly dry. Also, 2015 was a GREAT year for wine.
2. 2018 Governor's White
Available through the Williamsburg Winery for $10, plus FREE SHIPPING for orders over $50. This is absolutely my go-to wine. As a Riesling (my favorite varietal) it's light and crisp, it's not too sweet or too dry. You'll taste fruit, honey, and a hint of vanilla. Can I have some right now, please?
3. 19 Crimes Pinot Noir
This is available at many grocery stores as well as online and usually runs between $12 – $13. If you're feeling a bit like a prisoner in your own home right now, you'll love the 19 Crimes brand. Their living labels bring extra personality to your wine experience. A pinot noir is a solid pick, too – well-balanced, soft and slightly dry.
4. Monte Branco Alento Rose
Available at Tinto's for $17. The entire Monte Branco line is a win, but because this is a short list and because I wanted something a little pink, I'm choosing this one. This red grape blend is fresh with fun berry flavors.
5. Mascota Vineyards Unanime 2015
On sale at Total Wine which is offering delivery in some places for $19.99. An intense Cabernet Sauvignon, this is the driest wine on my list. I love its richness. It's dark and fruity in flavor and goes really well with food (any kind of food).
Supporting local businesses is so important right now so I want to shout out our local wine shops and tasting rooms that have always nerded out with me about wine.
Tinto Wine and Cheese has three locations in Virginia Beach (@TintoVaBeach), Chesapeake (@tintochesapeake) and Norfolk (@TintoDowntown). I won't lie, this is my home away from home and they are offering wine DELIVERY and virtual tastings. They are the most welcoming, friendly, knowledgeable, and remarkable team – I'm really missing my regular tastings right now.
Branches Tasting Room (@branchestastingroom) in Chesapeake is a sweet and cozy spot with tasty treats. They're offering Curbside-To-Go food orders.
Vino Culture (@vinocultureva) is a local wine class and wine party business run by Certified Sommelier Kiera Hill. She's offering wine 6-packs and delivering to your home (with the help of her SommMom). She's started doing online classes, too.
You know how much I love talking #digitalmarketing but if you just wanna talk wine, I'm here for you, too. You can chat me on Facebook (@dianrich13), Twitter (@DianaRich13) or reach me here at Red Chalk Studios.
We hope you're getting your wine on while stuck at home so we want to hear your Top 5 List. Head on over to any of Red Chalk Studio's social media channels and share! Facebook, Instagram or LinkedIn.