WE WANT TO HELP YOU BUILD A BETTER BRAND AND STRONGER BUSINESS
START-UP BUSINESS
Align your business to your customers' needs
Position your products and services uniquely
Offer value to your audience
Gain stronger traction and take advantage of opportunities
Make it easier to grow when you start up smartly!
GROWING BUSINESS
Evaluate the brand you have and be sure it's the brand you want
Position your business and brand for new markets
Adapt your brand to market changes
Develop tools for your team to deliver smarter brand experiences
Align your culture with your core values
CHANGING BUSINESS
Evaluate your brand strengths and weaknesses
Reposition your brand to align with new markets
Redefine your brand to increase its relevance and value
Evolve your brand to meet new opportunities
Inspire and re-energize your team
So, what exactly is a Business Foundation & Marketing Roadmap?
To put it simply, your strategically-developed Foundation & Roadmap helps define and guide who you are as a business, as well as the services and products you produce and deliver. But defining who you are as a business is no simple task. After all, everything you do, say and produce as a business and organization is your BRAND. And your brand is your power.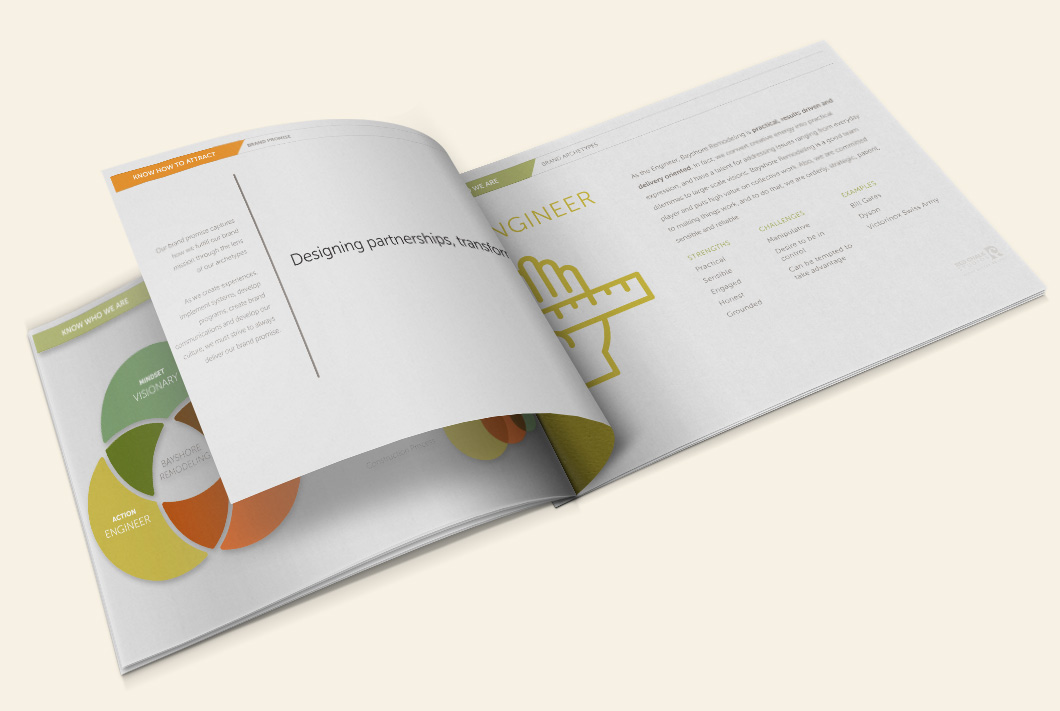 The four building blocks of your Business Foundation & Marketing Roadmap define:
Where You Stand
Business & Brand Objectives
Identifies, prioritizes and sets goals
Business & Brand Challenges
Guides in creating goal-oriented strategies and plans
Brand Position
Identifies and articulates your unique position in the competitive landscape
Who You Are
Brand Mission & Vision
Defines what you hope to accomplish and for whom on a daily basis, as well as your aspirations
Brand Archetypes
Allows us to put a face, personality and set of expectations on your brand
Brand Voice & Tone
Defines your brand attitude and mood for consistent communications
Brand Core Values
Defines the truths that govern your culture and customer service
Brand Idea
Captures how you fulfill your Brand Mission
Who To Attract
Target Audiences Profiles
Identifies your  audience demographics and psychographics to zero in on who they are, where they can be found, their behaviors and what motivates them
How To Attract, Engage & Retain
Value Proposition
Identifies and defines what sets you apart from your competition and the results you deliver to customers
Brand Promise
Identifies exactly what you deliver and stand behind
Customer Journey Map
Outlines the story of a customer's experience, from the first interaction with your business to a long-term relationship, and identifies ideas and needs for achieving your business and brand goals based on opportunities and touchpoints
What will your Business Foundation & Marketing Roadmap influence?
BUSINESS NAME • TAGLINE • PRODUCT & SERVICE NAMES • BUSINESS CULTURE • PROGRAM DEVELOPMENT • MARKETING STRATEGIES & TACTICS • SALES STRATEGIES & TACTICS • LEAD GENERATION & CONVERSION STRATEGIES & TACTICS • WEBSITE URL • WEBSITE STRATEGY & DESIGN • CUSTOMER/MEMBER EXPERIENCE STRATEGIES & TACTICS • ADVERTISING STRATEGIES & TACTICS • ALL COMMUNICATIONS, INTERNAL & EXTERNAL • AND MORE…
READY TO TALK ABOUT DEVELOPING YOUR BUSINESS FOUNDATION & MARKETING ROADMAP?
Whether you're a small business or large, have a local, regional or national presence, we tailor the process and deliverables specific to your needs. And in the end, you'll be well-armed for building a better brand and business.
This has been an incredible experience from start to finish, and we appreciate all of the hard work you all have put in! Thank you so much!

We have been highly impressed by Red Chalk's ability to transform our vision and business strategy, as well as their understanding of a complex product, into an outstanding and seamless user experience. We are more confident than ever to approach the largest, most venerable companies and organizations with LifeCents, and the results have been speaking for themselves.

Red Chalk Studios consistently exceeds our expectations. The energy and enthusiasm they bring to each project is truly inspiring.

When you get Red Chalk Studios in your corner, you're not just getting the best branding specialists in the business, you're getting a company that will help support, promote and grow your business to the top of its industry!

Red Chalk Studios has an amazing team of talented professionals who know how to not only listen to their clients, but also exceed their clients' expectations with cutting-edge creativity.

Were your ears burning? We were talking about how much we appreciate you and the way you have helped us look so good!

Red Chalk accommodates our requests, no matter how challenging they may be, and they do so in the most professional manner. It is a pleasure to work with the Red Chalk gang.
OUR EXPERIENCE SPANS VIRTUALLY EVERY INDUSTRY

Our industry experience is a valuable strength
Automotive  /  Associations & Co-ops  / Beauty  / Building & Construction  / Education  / Entertainment  / Environmental  / Financial  / Fitness & Health  / Food & Beverage  / Healthcare  / Home Services  / Hospitality  / Manufacturing & Distribution  / Municipal  / Non-profit  / Professional Services  / Retail  / Technology  / Telecommunications