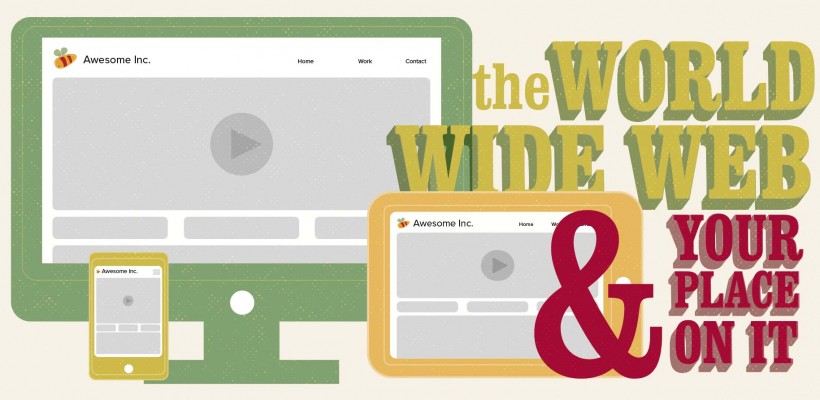 YOU BETTER HAVE A WEBSITE.
Let's start with your website. If you have an existing business, you most certainly have a website. If you don't have one, you most certainly should. This is where the majority of people go to search and find goods, services, reviews, work, help, the best chocolate in the world… So right out of the gate, that's step one. However, just having a website is not what this is about.
DETERMINE YOUR OBJECTIVES, GOALS AND STRATEGIES.
As of this writing, there are almost five billion web pages on the Internet. And that's not going to stop growing. There are many things that go into having a successful website, and you MUST start with establishing your objectives for your site. Do you want it to generate inquiry calls? Sell something? Entertain? Educate? What is its purpose?
Establish goals for your site so you have something measure against. If you goal is to make $10,000 in sales each month, and you're not meeting that goal, you know you have to revisit your strategies (on-site and off-site) and try something else. Could be what you're selling isn't desirable. Could be your site doesn't make it easy for someone to make a purchase. But if you haven't set goals for what you want to accomplish, then you have no way of gauging if you're doing the right things.
Consider your audience. How do you want them to interact with the site? Will they have limitations? Will they have expectations? What do you want them to do on your site? How do you want them to feel? Do you need to get feedback from them? Do you need to grow and foster client relationships through the site?
Then come the strategies for how you're going to meet all, or the most relevant, objectives. Are all of your objectives achievable now, or should they be phased in? How many audience segments do you have and how can you meet their needs? What is your strategy for driving people to your website and how does that look? How will the site be managed and maintained once it's up? What will be your strategy for success once you've met your goals?
Ye gads, that's a lot. But all important!
MAKE SURE YOUR WEBSITE IS PROPERLY BRANDED.
Next, and equally important: Does your website reflect your brand? Your brand—your truth, your personality, your story—is what differentiates you from the 12,847 (or so) other businesses out there doing what you do. Your current site can be beautiful, it can be entertaining, it can be functional, but if it doesn't ooze your brand from its very pores, it's not selling YOU and all that effort is for naught.
DESIGN YOUR WEBSITE FOR MULTIPLE DEVICES AND SCREEN SIZES.
Now, how does your website perform on a desktop computer? On a laptop? Tablet? Smartphone? People are accessing websites on all types of devices, and these days, the majority of people are using mobile devices. What does that mean for you? It means your website better be responsive, allowing it to automatically respond to a user's behavior and environment based on screen size, platform and orientation. (Or if it's more strategic to have a separate mobile site, be sure you have one.) Oh, by the way, about 50% of all searches done on Google are on mobile devices, so optimize your site for mobile and boost your search results. You'll also ensure your ranking doesn't fall through the floor.
IMPROVE YOUR SEARCH RESULTS.
Speaking of searching, where does your website appear in search results? Here are some things you (or we) can do to improve your organic search performance on Google:
Define your keyword list so it consists of the highest-trafficked, most relevant terms.
Have compelling, high-quality content of value and worth on your site so there's a better chance of it being shared.
Write smart page titles that include keywords and your company name, all under 70 characters.
The same for meta descriptions, and keep them under 150 characters.
How long is your URL? Shorter names seem to perform better in Google rankings.
Be active on social channels. Social engagement is increasingly impacting Google SEO rankings.
Analyze the activity on your site. Measure changes in your search traffic and track visitor interactions.
PUT RED CHALK STUDIOS ON YOUR TEAM.
This is just some of the thinking that goes into having a strategic and successful website. Keep all these things in mind to help strengthen and support what is most likely your business's most important marketing tool: your website. And if you need any help, we're right here.