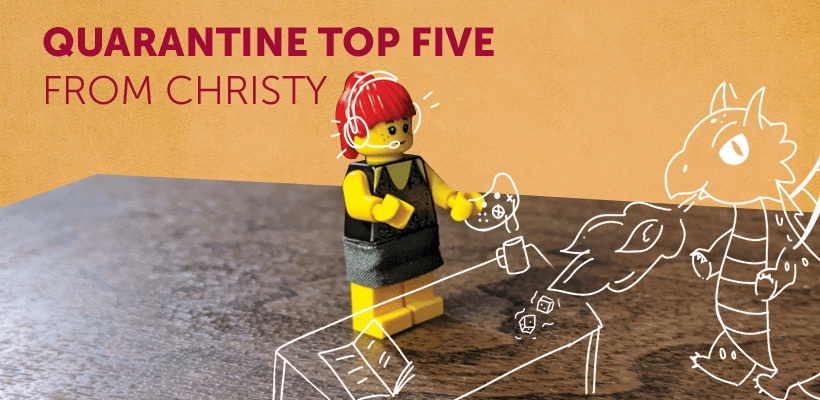 Are there any uber-nerds (like our resident Project Wrangler, Christy) out there looking for a way to spend the time cooped up in the house?
Well, here are some of the quirkiest and nerdiest ways to burn through the hours of quarantine.
1.  All From Software Video Games
No matter what gaming platform you have (PC to Ps4), there is a game produced by From Software out there, waiting to be conquered. Well known as some of the most challenging, yet rewarding games on the market, any game in the Dark Souls series will absorb over 100 hours of unoccupied time into the void. Filled with breathtaking vistas, decrepit cathedrals and towering spires, the world and it's mysteries are something that you just fall into. The combat is rigorous and unforgiving, against seemingly unending foes. Strategic, methodical swordplay isn't for everyone, which is where Bloodborne comes in. Faster gameplay, monsters straight out of Lovecraftian horror, and guns… What's not to love?
2. Dungeons & Dragons (5e)
It only takes three people to go on an epic adventure into the theater of the mind! Even if all of the books and rules seem a little overwhelming at first, it is well worth breaking out the notepads and pencils to create your own fantasy world and explore. No books? No dice? No problem! All the resources that you need can be found as PDFs online, and there are dice-rolling apps, too!
If you don't want to play Dungeons & Dragons, why not watch it? This web series brings a party of 8 professional voice actors together on a quest to slay ancient evil. In total, the first "season" is over 200 hours of content to binge!
If you really want to burn through some time, and have the patience for a slower-paced massively multiplayer online role-playing game, Oldschool Runescape is a safe bet. Not sure what they did with the new Runescape, but Oldschool Runescape is a blast from the '90s like no other. Free to play, chunky graphics and hordes of nostalgic gamers abound in this high-fantasy game. Lose your isolation chatting in the grand exchange, battling monsters in semi-turn-based combat and level up your skills to forget the coronavirus blues.
5. Original YouTube Content
Okay, now I know this is a list within a list, but when it comes to entertaining things to watch there is no shortage on Youtube. From short-form, bite-sized "let's play" channels, to intelligent, observational and downright weird. Here are a few neat ones to check out:
Night Mind: Nick Nocturne has a super smooth reading voice for horror stories, and picking apart horror web series across the internet. Definitely worth a peek if you are in the mood for spooky.
Technology Connections: This is technically an educational channel, explaining the interesting intricacies within the technology we use and see every day. The deadpan delivery of techy puns and cynical explanations make for a very entertaining watch.
Today I Found Out: This is another channel to gather neat, random facts from the present and throughout history. Great for accumulating knowledge, and the soothing British accent makes it a great background for naps, too!
We hope you're embracing all of your own quirks and nerdiness during these crazy times, so we want to hear your Top 5 List. Head on over to any of Red Chalk Studio's social media channels and share! Facebook, Instagram or LinkedIn.