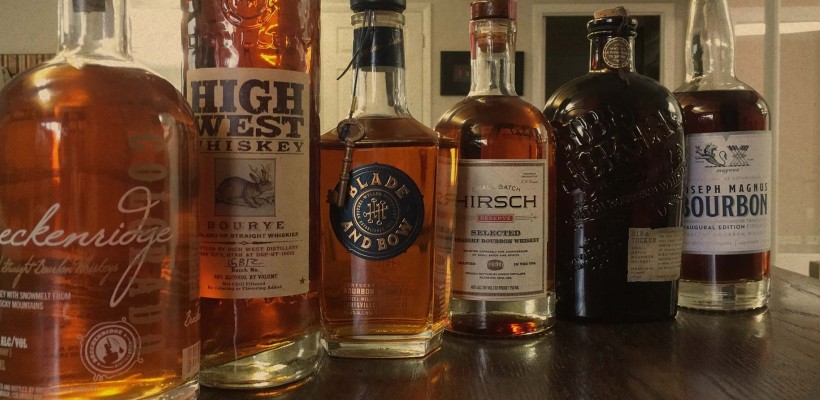 Red Chalk Studios' second Whiskey Roundtable is in the books and—like whiskey itself—we're feeling quite warm and wonderful about it.
It began last year when Red Chalk organized an informal "out-of-focus" group to help us research whiskey perceptions and insights as we embarked on the brand development of a new whiskey client. We had nine tasters that night and it was a huge hit.
Fast forward to February 12, 2016. No particular reason to have a tasting; we just liked what happened last year, and we wanted to do it again. After a spin around a groaning table of Alex's amazing grilled ribs, fresh salads, cheeses, a huge plate of strawberries and grapes, and a sinful cauldron of warm chocolate, we retired to the studio space where tables had been set up. Sixteen experienced and novice whiskey tasters sat four to a table, with pencils, notebooks and water in front of them.
Six whiskeys, presented for the blind tasting, were chosen based on their place of origin (all in the U.S.) and their excellent reviews. We also had a mix of blends and straight whiskeys. After a discussion about the importance of nose, palate and finish, we began our testing in rounds of two.
Tasters put a small drop of water in each glass of whiskey to open it up, then started smelling, sipping, tasting, swallowing and commenting:
"It has a soft linger."
"Smells nutty, peachy."
"It punched me in the throat."
"Buttery, with purpose."
"I want more."
No one was shy. Between rounds we had whiskey trivia, and congratulations go to Jason Blanchette of Anderson's who aced his trivia questions. As a reward, Jason got to take home one of the bottles. He chose the Hirsch Small Batch Reserve Kentucky Straight Bourbon Whiskey. That would have been our choice, too!
Our six bottles were, in order of tasting:
High West Bourye Whiskey
Breckenridge Bourbon Whiskey
Blade and Bow Kentucky Bourbon Whiskey
Hirsch Small Batch Reserve Kentucky Straight Bourbon Whiskey
Bib & Tucker Small Batch Bourbon Whiskey
Joseph Magnus Inaugural Edition Bourbon Whiskey
We chose the Hirsch and the Blade and Bow as our favorites, with Bib & Tucker and Joseph Magnus following. Thanks go to all our tasters for being a part of our fun, and for being so passionate about whiskey.
We're partial to it ourselves. Cheers.