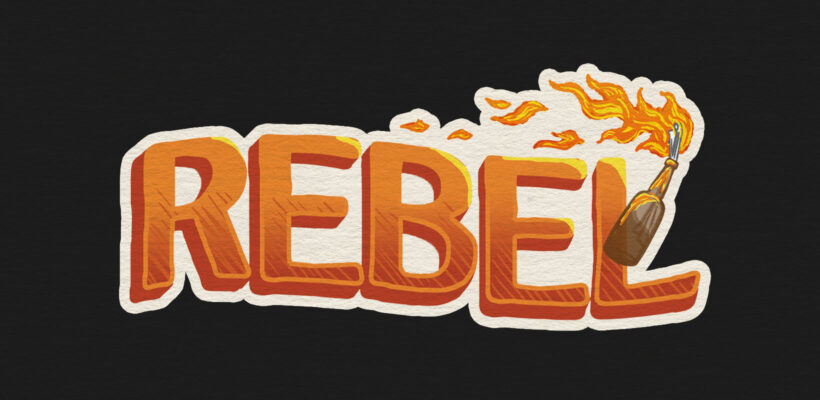 "Don't tell me what to do."
Your business's brand persona questions authority. You break the rules. You crave rebellion and revolution.
Your brand, my friend, is that of a Rebel.
As a "Rebel" business, you question the status quo and encourage—nay—demand change. In that leadership position, the Rebel is a rabble rouser, raising awareness, stirring indignation and putting new ideas into action.
Although not angry, this renegade does indeed awaken outrage. And that passion leads to a mission of rebellion.
As a brand, the Rebel is just as progressive and provocative. Conformity is the enemy and showing disdain for it will truly resonate with your target market. Motivating or empowering a revolutionary mindset will go even further, making you an icon to your people. You are all about grit and attitude.
For example…
Liquid Death Water as the Rebel.
How do you make water rebellious? You call it Liquid Death, create the logo of a skull that appears to be melting or on fire with the tagline "Murder your thirst," put it in tallboy aluminum cans that look like intimidating energy drinks or craft beer, and market it to kids. Rebellious? Absolutely. And honestly, the last thing you'd expect to find inside a can of Liquid Death is gentle, friendly water.
The brand's website states its intentions very clearly:
"We're just a funny water company who hates corporate marketing as much as you do. Our evil mission is to make people laugh and get more of them to drink more water more often, all while helping to kill plastic pollution."
Liquid Death is clearly rebelling against the perceived exclusivity of bottled water in the health and wellness industry, saying "most products in the health and wellness space are all marketed with 'aspirational' fitness models and airbrushed celebrities. And many of us are tired of it."
The gauntlet has been thrown. In fact, Liquid Death gladly invites its customers to stick it to the man by mailing nonrecyclable plastic bottles back to the billion-dollar corporations that produced them. Rebellious? For sure.
Vans as the Rebel.
Brothers Paul Van Doren and Jim Van Doren created their iconic shoes in 1966, which became very popular with skateboarders.
The company wisely listened to their market, aligning their Rebel brand with the skating subculture; they purposefully focused on the misfit image and music that surrounded the skateboarding world.
In 1982 when an unknown 21-year-old actor named Sean Penn requested that his surfer character Jeff Spicoli wear checkered Vans shoes in the upcoming movie Fast Times at Ridgemont High, Vans achieved worldwide recognition.
As the Rebel, Vans became the main sponsor of "The Warped Tour" a summer punk-rock music festival, which resonated with their core audience.
Vans continues to find success collaborating with outside artists and rebellious pop-culture icons; some of the most popular Vans cross promotions include The Beatles Yellow Submarine, Star Wars, Metallica, Marvel, and the Simpsons.
By looking at the specific differences and nuances in archetype groups that seem close in nature, you're able to really drill down and discover the bone-deep truth of your brand. AND how to use that knowledge to develop crystal-clear messaging.
---
---
Ready to explore your brand archetypes and understand how to use them to build your business?
Red Chalk would love to chat! Schedule a consultation and let's put the power of brand archetypes to work creating a desirable brand.
---