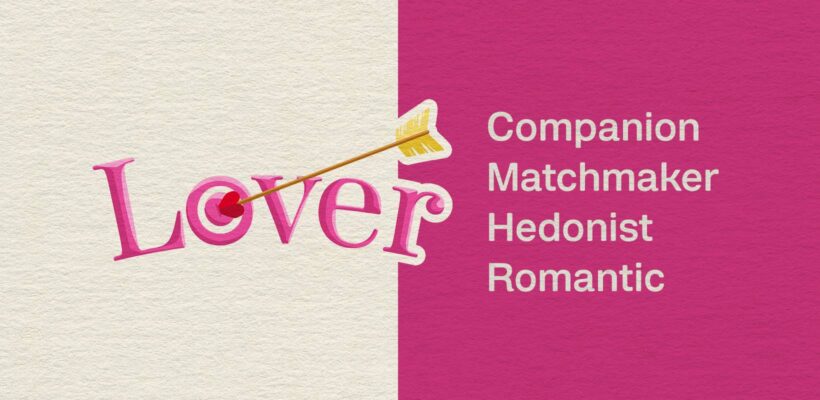 Not to be too suggestive… Well, forget that, we DO want to be suggestive. Were you attracted, even titillated, by that headline? We hope so, and it's in keeping with this month's focus on the Lover archetypal family.
In general, the five personas that make up the Lover archetypal family share shades of love and passion, but their differences are significant. Very significant.
For example, while the Lover archetype, one of the twelve core archetypes in the full group of sixty, is about intimacy and passion, it is truly about achieving and connecting with the experience of love. What, then, do the other personas represent?
The Other Archetypes in the Lover Family…
As facets of the Lover, these archetypes exemplify different types of love and kinds of lovers.
The Companion is your friend, trusting and trustworthy.
Just like Carole King says in her song, "​​You just call out my name, and you know, wherever I am, I'll come runnin' to see you again. Winter, spring, summer or fall, all you have to do is call, and I'll be there… You've got a friend…" Yep, the Companion is unselfish, offering loyalty, belonging and platonic love (emotional rather than sexual).
State Farm as the Companion.
Like that friend who comes running… State Farm is an insurance company that's been "helping people manage the risks of everyday life" for 100 years. They are all about "being there when you need us," belonging, and making it their mission to invest in communities and rebuild neighborhoods. It's what being a good neighbor is all about. And a Companion.
The Matchmaker, also unselfish, is all about discreetly building relationships, making connections and bringing people together.
Not someone who likes the limelight, the Matchmaker finds fulfillment in creating successful relationships.
Be the Match as the Matchmaker.
Might seem a little obvious, but Be the Match is our Matchmaker example. The organization was created out of the love for a child who had leukemia. Determined to save her life, her parents agreed to the unconventional treatment of a bone marrow transplant. With its success, a national registry of volunteers willing to donate bone marrow was established, matching donors with the people who need them. Unselfishly connecting people and building strong, dependable relationships, Be the Match is a very strong (and literal) Matchmaker.
The Hedonist is, well, not unselfish.
See the double negative there? But it's a positive for the Hedonist because they are happily self-indulgent, and their main goal in life is to pursue pleasure. Seizing the day and living in the moment, their idea of love is more about physical ecstasy than spiritual transformation.
Ivy Park as the Hedonist.
While Ivy Park is an athleisure clothing line, the brand (owned by Beyoncé, by the way, in partnership with Adidas) definitely embraces feeling good about yourself. Described by Queen Bey herself, the new "Ivy Heart" collection was "inspired by love." We know there are lots of different types of love and, as the Hedonist, Ivy Park is about personal love: taking care of yourself and finding tremendous satisfaction in that pursuit.
The Romantic loves being "in love" and, in fact, only feels completely alive while in or pursuing a loving relationship.
Optimistic and intense, the Romantic is the proverbial wearer of rose-colored glasses, experiencing a world full of beauty and charm.
Tiffany & Co. as the Romantic.
Engagement rings. Anniversary gifts. Wedding presents. Tiffany & Co. is the luxury brand that elevates romance and celebrates relationships. From the iconic blue box to the association with the classic romantic movie, "Breakfast at Tiffany's," this brand is all about courtship and flirtation, beauty and desire. Interestingly, Beyoncé and her husband Jay-Z are featured in a beautiful video we're highlighting that captures their romance.
Let us count the ways…
We hope you loved this discussion about the Lover archetypal family and the important nuances among the personas.
---
---
Ready to explore your brand archetypes and understand how to use them to build your business?
Red Chalk would love to chat! Schedule a consultation and let's put the power of brand archetypes to work creating a desirable brand.
---