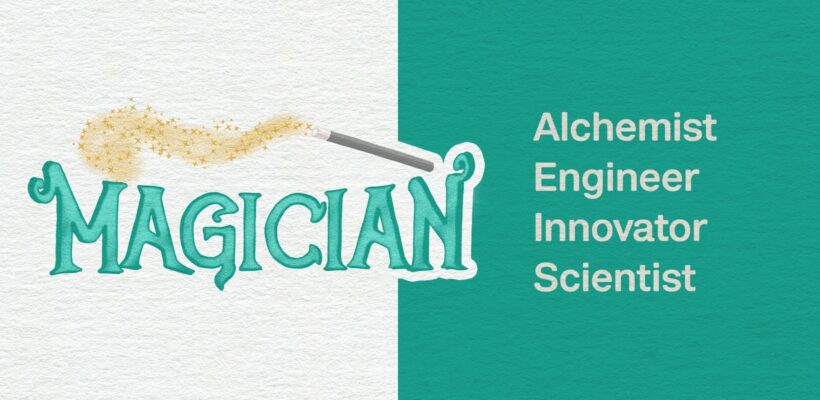 It's all about curiosity and transformation.
Your business exemplifies the personality of a thinker, one that is inquisitive and questioning. This search for ideas or answers or solutions and the process of transformation are what drive your business… And this archetype.
Magician archetype businesses are curious thinkers who explore the inner workings of the universe, turning ideas or dreams into reality. 
The Magician archetypal family has five personas, and while they all share curiosity and vision, they also have big differences.
For example, while the Magician archetype itself, one of the twelve core archetypes in the full group of sixty, is intuitive, mysterious and ritualistic, the other personas in the family have different characteristics. What, then, do the other personas represent?
The Other Archetypes in the Magician Family…
As facets of the Magician, these archetypes exemplify different kinds of curiosity, exploration and dedication to change.
The Alchemist is the one who is a true changemaker, turning negatives into positives.
Like spinning straw into gold, this archetype blends science and spirituality, tirelessly exploring the process of turning pain or ugliness into hope and beauty, and believing any kind of magical transformation is possible.
M•A•C Cosmetics as the Alchemist.
From the start, Frank Toskan and Frank Angelo had a vision to change their community through their passion for makeup. "We developed a great lipstick color we called Viva Glam," said Frank Toskan. "This little lipstick gave people dignity and saved lives." Is that changemaker talk? Absolutely. Turning negatives into positives? Yes. Since 1984, MAC Cosmetics has established itself as the ultimate color authority with artistry at their roots, inclusion and diversity at their core, and a commitment to conscious beauty and social responsibility at the top of their minds. Just like all alchemists who are motivated, tireless, and believe… MAC invites customers to join in their "ambition to drive impact, promote acceptance and inspire change toward a better future."
The Engineer is the more practical member of this archetypal family, driven by curiosity and a need to fix problems and find solutions.
Methodical and calm, this archetype is a systems specialist and interested in discovering patterns. Patiently understanding that the world can be complicated, the Engineer is grounded, focused and results driven.
Dyson as the Engineer.
After years of exploration and engineering prototypes, the first mass-produced Dyson vacuum cleaner was introduced in 1993, using a special "cyclonic vacuum" that was rejected by all the major vacuum manufacturers at the time. The DC01 was launched and Dyson, the company, was born. Since then, Dyson (the man) has spent his time with growing teams of engineers and scientists, inventing products that harness radical, new technologies to solve problems.
In their own words, Dyson is "a problem-solving, technology-led company, which is present in 84 markets around the world. Around half of the global Dyson team are engineers and scientists, and its research interests span robotics, AI, machine-learning, solid-state battery development, material science and high-speed electric motors." It's clear that the Engineer archetype is infused throughout this company.
The Innovator is a passionate thinker, a catalyst for growth, and a trend-spotter who champions new ideas.
This archetype asks, "what if?" and "why not?," bringing together diligent research with willpower and imagination. Full of curiosity and passion, the Innovator is not afraid to think big thoughts and inspire teams to pursue them.
Flow as the Innovator.
Flow's mission is to have a regenerative impact on the planet through innovation in beekeeping that inspires, empowers and connects. In 2015, Cedar and Stuart Anderson, father and son, took a technology for honey extraction from bee hives that hadn't changed in 150 years and successfully reimagined it. This journey began with tinkering in a shed and led to the pair being globally renowned as inventors and entrepreneurs. Today, Flow allows beekeepers to tap and harvest honey straight from the hive. The company is also committed to creating a community of educated, empowered beekeepers, protecting pollinators, and highlighting the importance of bees to the world.
The Scientist is committed to exploration and is relentless in pursuit of a goal.
This archetype is highly logical and intellectual, is grounded by the quest for answers, and is singularly focused on doing work for the greater good.
SpaceX as the Scientist
SpaceX embodies the Scientist archetype with its passion to explore and understand the mysteries of our natural world. In fact, the company was founded to revolutionize space technology towards making life multiplanetary. As the world's leading provider of launch services, SpaceX is proud to be the first private company to have delivered astronauts to and from the International Space Station (ISS), and the first and only company to complete an all-civilian crewed mission to orbit. As such, SpaceX is deeply committed to maintaining a safe orbital environment, protecting human spaceflight, and ensuring the environment is kept sustainable for future missions to Earth orbit and beyond.
Is your brand a Magician? The type of guidance you offer determines the kind of transformer you are…
We hope you were intrigued by this discussion of the Magician archetypal family and the important nuances among the personas.
---
---
Ready to explore your brand archetypes and understand how to use them to build your business?
Red Chalk would love to chat! Schedule a consultation and let's put the power of brand archetypes to work creating a desirable brand.
---