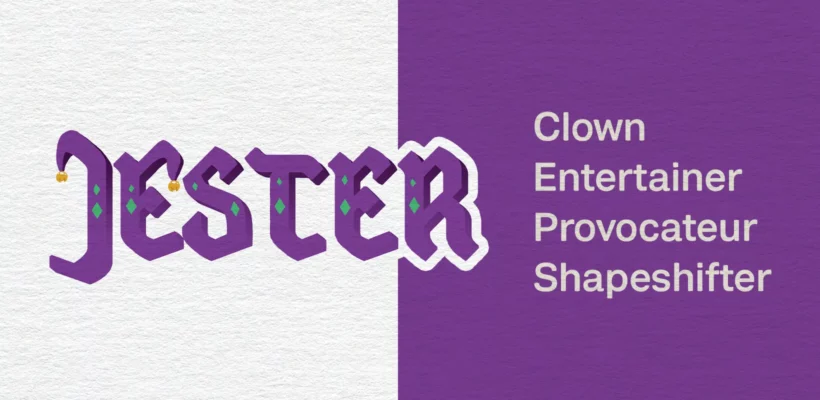 If your business is able to make someone smile while tapping into a universal truth or wisdom, you are a Jester brand archetype.
Maybe your business embodies the sort of innocent cleverness that allows you to speak the truth without offending anyone. Or maybe you embrace being boldly original, not afraid to laugh at yourself as you seek more opportunities for success. As the Jester archetype, you connect with your target markets through a shared knowledge that people recognize with a smile.
Jester archetype businesses are seriously playful and adaptable, able to transform or energize the world around them. Their goal is to attract attention, invite emotional engagement, and have an impact.
The Jester archetypal family has five personas, and while they all want to add value to the world, they also have big differences.
How? Well, the Jester archetype itself, one of the twelve core archetypes in the full group of sixty, makes jokes and is funny in order to make an impression and reach universal truths; the other personas in this archetypal family connect and engage using a much wider range of emotions. This difference makes all the… Difference.
The Other Archetypes in the Jester Family…
As facets of the Jester, these archetypes exemplify varying ranges of charisma and connection as they take the stage and turn things on their heads.
The Clown is the fun mask-wearer who can then "safely" make us laugh… And then cry.
Wise, entertaining and daring, the Clown can be quite dramatic in an effort to connect, and is able to break through barriers and talk about taboo or uncomfortable topics.
Movember as the Clown.
The Movember Foundation is known for its month-long charitable event when men grow mustaches to raise funds and awareness about men's health issues that include prostate cancer, testicular cancer, mental health and suicide prevention. It's a serious subject, no doubt. But by focusing the campaign on the mustache, and by celebrating and poking fun at this traditional symbol of manhood, the brand invites "Mo Bros" and "Mo Sisters" around the world to be a part of this global crusade.
The Entertainer is the observant performer who likes to poke fun, helping us escape from reality.
This archetype loves to get reactions and engagement, and is the "informative artisan" who is popular for playfully entertaining us.
Poo Pourri as the Entertainer.
Identifying a universal problem (poop stinks!), Poo Pourri talks about their products in a way that is highly informative and highly entertaining; their brand voice "…furthers our mission to bring levity to a world weighed down by toxic odors, stigmas and ingredients, leaving the world (smelling) better than we found it." They describe their founding as a movement, "…a bowel movement, starting a conversation and removing the taboo over something we all do. With more than 100,000 5-star reviews, Poo~Pourri had the world talking crap!" Toilet sprays have names from "Ship Happens" to "Heavy Doody." Their success proves that the world is definitely entertained!
The Provocateur is the pot stirrer, the charismatic communicator who stimulates people to take action.
This archetype is able to navigate complicated issues in order to shake people out of complacency and into action. Apathy is the enemy, according to the Provocateur, who uses irony and comedy, sometimes shock and controversy to get engagement.
The Onion as the Provocateur.
As an American digital media company and newspaper organization, The Onion publishes satirical articles on international, national, and local news. The publication's humor often depends on presenting mundane, everyday events as newsworthy, surreal, or alarming, such as "Rotation Of Earth Plunges Entire North American Continent Into Darkness." They stay true to their mission to be "the best satirical parody of news media in the world" by being obsessive about growing their fan base with brilliant—and provocative—comedy writing.
The Shapeshifter easily moves in and out of situations with ease and style, challenging perceptions.
This archetype practices—and celebrates—transformation and reinvention. It's this special adaptability that helps the Shapeshifter move people toward greater understanding.
Martha Stewart as the Shapeshifter.
The Martha Stewart brand has evolved (shifted?) from Martha being the domestic hostess with the mostest to being an international lifestyle influencer. This evolution has been driven by her audience's changing needs, challenges, and desires, and her ability to react to that; she continues to bring style to the world, staying on top of the curve and rolling with the advances in technology and in how people consume content. Just look at how she has successfully partnered with Snoop Dog and Liquid Death. What's next? Only Martha knows…
Is your brand a Jester? If so, then it's precisely how you attract, entertain, engage and connect with your audience that makes the difference.
We hope you were intrigued by this discussion of the Jester archetypal family and the important nuances among the personas.
---
---
Ready to explore your brand archetypes and understand how to use them to build your business?
Red Chalk would love to chat! Schedule a consultation and let's put the power of brand archetypes to work creating a desirable brand.
---