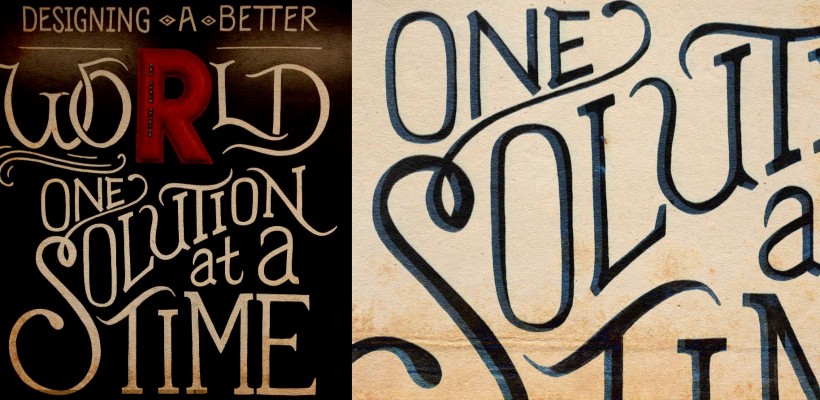 Dear Client,
Where to begin? There are so many things we've been wanting to tell you, but until now, never quite got around to it. You're busy, we're busy… there's the kids to feed and the chores to do. But we're putting all of that aside now, because this is important and these things need to be said. We want you to know what you mean to us…
Because of you, we get to do the things we love.
Not everyone can say that their job gives them satisfaction on a regular basis. Not everyone wakes up in the morning, excited to put their passion into play and see what the day will bring. And not everyone loves what they do for a living.
We chose this profession, or it chose us, because we love the challenges of creating something that solves a problem, that brings clarification to the chaos, that strips away the chaff and reveals the inner truth.
Whether we're strategizing, concepting, designing, illustrating, writing, coding, building, researching, managing, or any of the many other tasks we perform, we're doing it because we care about YOU and it makes us happy. How amazing is that?! Without you, we couldn't do this.
Because of you, we have a team of exceptionally talented, caring people.
Our company was built on a long-fostered foundation of providing great work with a great attitude.
Over the years, as our partnership has grown, so has the demand for us to provide more greatness. To do that, we have to have people who are not only talented in each of their specialties, but can work well with one another and, most importantly, work well with you, dear client.
We are a collective that brings unique talents, fosters the growth and betterment in us all, and cares that you are taken care of to the best of our abilities. Without you, we couldn't have the team we have.
Because of you, we've built a nurturing culture that values friendship, teamwork and curiosity.
This certainly didn't happen overnight, but we've been able to build the kind of culture that is rarely experienced (or so we've been told). We have a space that inspires and delights (from vintage games to plants to art everywhere). We have a Happiness Director who makes us lunch, daily, and tends our outdoor garden. We have a studio cat and friendly neighborhood squirrels.
We have a team that respects each other, enjoys working together, and even hanging out together. We encourage and support exploring new ideas and learning new skills. We love game time! We love inviting you over and treating you to Alex's lunch and a fresh-pressed coffee or treat.
Being more than just any old agency is critical to our DNA and how well we're able help you. And because of you, we are building a culture like no other.
Because of you, all of our clients benefit.
The lessons we learn from you — how you need to reach your audience, the challenges you face in doing so, and the solutions we collectively come up with — all of this valuable information and experience get parlayed into the next set of problems we have to solve and challenges we face.
And vice versa… The work we do for you is even better because we've had the experience of working with so many others. How wonderful is that? And it's all because of you!
Because of you, we learn how to fly.
Douglas Adams once said, "Flying is learning how to throw yourself at the ground and miss."
Every day there are challenges. Every day there are setbacks. Every day there are failures. And every day, there are successes.
Your challenges are ours and we are here to help solve them. We might not have all the answers when we start our journey, but we're going to throw ourselves off the cliff in search of those truths. Without you, we couldn't take that leap.
And because of you, we have a friend.
It's all about the relationship — if it doesn't work, we're not a good fit — doesn't matter how good the work is. But at the end of the day, we treasure being able to call you "friend." And even more, we love a good hug. THAT is the cream in our coffee.
We hope you know how much we appreciate you.
Thank you for everything.
Sincerely.