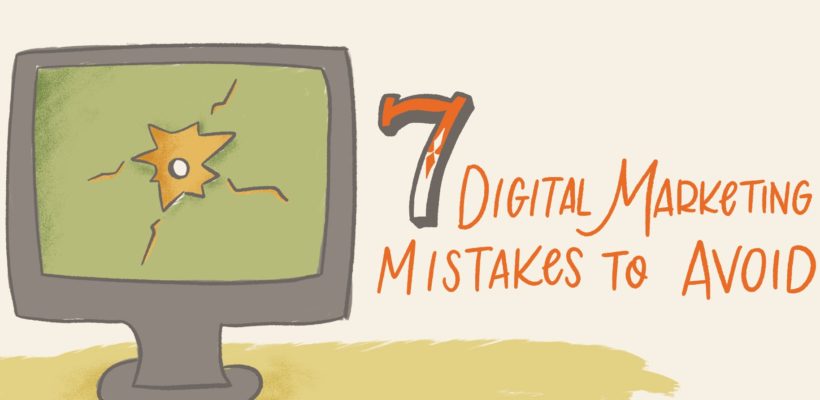 Sometimes the concept of "digital marketing" can seem chaotic, like the wild, wild west — it's there and people are flocking to it, but no one's really conquered it yet. An uncharted and continuously changing landscape can be quite intimidating. There are new rules, unfamiliar nuances, and misinformation out there. And that's where mistakes can happen.
In an attempt to help you avoid the next O.K. Corral, we'll lay out seven digital marketing mistakes to avoid.

MISTAKE #1: Not setting definitive goals at the start
"What do I want to accomplish?" should be the first thing you discuss with ANY marketer, not just digital. There's a reason it's #1 on our list today. Your answer should be something tangible, a goal to work towards that is trackable.
We know you want more sales, but good marketing needs more than that  — we need to set specific goals in order to put the right strategies and tactics into effect.
When it comes to digital marketing, there is a full suite of data points that are trackable, at a very granular level, and then reviewed; we like to call them "Success Metrics." Particularly when discussing digital marketing goals, ensure your goals are trackable by data or there may be nothing to show that your efforts have been effective. And then make sure you understand those success metrics so you get the full picture of what's being accomplished and where you need to make adjustments.

MISTAKE #2: Setting it and forgetting it
With AI (artificial intelligence) on the rise, the idea that a digital campaign can be set up and left to do its thing is NOT the greatest of strategies. This is why there are entire career fields dedicated to optimization and data analysis.
Some digital marketing campaign platforms, such as Google Ads or Facebook Ads, are easy to set up and forget about because you'll see "results" within their interfaces, as well as traffic to your site from those sources. But that is not the purpose of digital marketing.
Fulfilling the goals you should have set in #1 takes time, analysis and recurring adjustments in order to hone in on your marketing sweet spot. Yes, you'll get traffic from your campaigns if you don't do anything to them, but it's the quality of traffic that should be your focus.

MISTAKE #3: Buying in to marketing fads
No marketing should be done just for marketing's sake. Understanding what resonates with your ideal audience, even if it's something not being talked about right now, is what needs to be your top consideration. Otherwise, it's wasted money.
One of our mantras is "it's not about all of the traffic, it's about the RIGHT traffic." Maybe the traffic to your website drops because you shift marketing focus, but if your GOAL is being achieved — that's where it counts.
Strategic marketing understands who your audience is, what they like, what they do, and where they see advertising. Your marketing sources also should align with your goals because different mediums, such as Google and Facebook, produce different results. So don't spend money just because you saw something on Facebook about how Instagram Stories increase sales by 10000000000%.

MISTAKE #4: Assuming you are the customer
You know your business, industry and products/services the best, but that does not mean you are the target audience. Statements like "I'm never on Facebook," "I don't click on those ads," "I never open those emails" are counterproductive. Those marketing tactics wouldn't exist if they didn't work when used properly.
Doing the work at the beginning of any marketing adventure to define and understand your audience is going to be KEY to success. It's a first step, like setting goals, in order to put into place the tactics that will produce results. You need to get into the minds of your ideal customers and fortunately, there's a lot of data that will tell us where those people are and what channels will best reach them.

MISTAKE #5: Thinking digital marketing is what will make your brand big
Every company was once a startup. But the best companies built and strengthened their brand over time. For those guys, marketing looks easy, which makes marketing, in general, look easy.
Therein lies the misconception that if your company can just get your brand out there en masse, then potential customers will assume you're the proper fit for them. Sorry, that's just not the case. It's easy to mistake seeing a brand everywhere as successful marketing, but again, that's not the case. True success is fulfilling your goals defined at Step #1. Nothing else matters.

MISTAKE #6: Not spending enough money
This is a big one. Businesses want a lot of results for as little money as possible, which we totally understand. But this can be the single biggest reason a campaign flops, or even fails.
Marketing your business costs money, and while digital marketing may allow you to reach your audience without having to resort to more expensive forms of advertising, like TV and radio, that does not mean you get to skimp on the budget. One of the aspects of digital marketing that we love so much is that you get out of it what you put into it. You want to outrank your competitor in Google? In addition to a smart strategy, you need a bigger budget. You want to show up on Facebook, Instagram and in retargeting channels? You need a bigger budget. You want traffic from across the U.S.? You need a bigger budget.
Your digital marketing department or your digital marketing agency should be able to give you a STARTING budget estimate, but be prepared to spend some bank and then INCREASE it as you go and grow.

MISTAKE #7: Expecting the perfect results quickly
Digital marketing is similar to traditional marketing in that it takes time to get things right. We are able to see data and results much faster than traditional marketing, but there is still the element of time needed to get the data that can show us how to improve.
We will get some results pretty quickly, but the right results take data analysis and optimization in order to achieve. Setting a timetable of results and data review is an important conversation to have with whoever is doing your digital marketing. This will keep everyone on the same page when it comes to expectations.
Communication is also important to keep everyone on top of the results. Checking the data regularly, even if you're just checking the basics (such as number of clicks), and then communicating that to the whole team is a great way to show that things are happening in between deep analysis, optimization and review periods.
Can you avoid a good ol' fashioned digital marketing shoot-out? You can if you have the right goals, strategies and expectations. If you have any questions or concerns, Red Chalk Studios is always here to help.