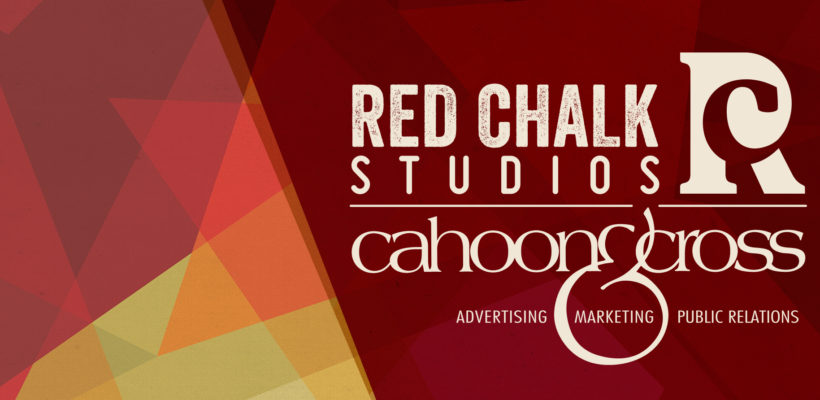 Red Chalk Studios is a full-service creative agency based in Virginia Beach, Virginia, with over 17 years of experience in developing and delivering brand strategies and marketing campaigns for clients big and small. We develop brand ideas and tell our clients' stories in the most authentic way possible — stories that are built through mindful partnership and development, and each one delivered in a strong, beautiful, thoughtfully crafted manner.
As we help our clients grow, we, too, are growing. In fact, we are proud to announce that we have brought Cahoon & Cross into the Red Chalk fold, welcoming their clients (many we are already serving) into the family. With a client list that has included Enterprise Wireless Alliance, askHRgreen.org, the Navy SEAL Foundation, Nationwide Insurance, the National Rural Telecommunications Cooperative, the Elizabeth City | Pasquotank County Economic Development Commission, Elizabeth City Area Convention & Visitors' Bureau and many more, Cahoon & Cross has been a powerhouse marketing and advertising force in our community for over 30 years.

Both Marga Cahoon and Nancy Cross have been tremendous role models and mentors for us. The strong working relationship we have shared with them and the example they have set in servicing their clients is one we will continue. We like to think that some of their insight and resourcefulness have rubbed off on us…
For the time being, Marga will continue to work as a consultant with us and we couldn't be happier.
Red Chalk is also bringing onboard Elizabeth Evans, Director of Public Relations, and Vicki Townsend, Media Director. We have worked with these impressive professionals on many projects, and we are thrilled, knowing their contributions will strengthen our team. Welcome, Red Chalkers!
Finally, we are so very proud that Marga and Nancy have trusted us in this transition as they get closer to retirement after their long-standing success in this dynamic industry.
If you are interested in experiencing a strategic, creative and collaborative approach to building and strengthening your business's brand, we'd love to talk to you.
HOW CAN WE HELP YOUR BUSINESS?

Brand Consulting
Your brand is your story, something that is in the minds and hearts of your audience (at least, it SHOULD be). First, know WHAT your brand is. Then know when, where and how to tell your story. We can help you be an excellent storyteller. 

Brand Strategy, Development & Management
Starting fresh or looking for a re-brand? We approach your project with an analytical mind, helping you understand your brand from the inside out, develop strategies to grow your brand, and then carefully manage that growth. See how we did this for askHRgreen.org.

Marketing Research, Strategy & Planning
Researching to understand market make-up is the foundation of our (your) success. By developing strong strategies that identify or create marketing channels, and then positioning your brand to deliver messages that compel a target market to act, makes Red Chalk a powerful partner.

Creative Services
We have ideas. And then some. But creativity needs a strong purpose and foundational message. We offer powerful art direction, copywriting, graphic design, illustration, and video and motion graphics that support your brand, attract attention and engagement, and deliver results.

Website Strategy, Design, Development & Management
Your website is most likely your most powerful branding tool and source of information. Red Chalk Studios offers in-depth strategy and planning; content audits and writing; user experience design; programming; and beautifully-designed, strategically-minded sites. 

SEO Audits, Strategy & Management
The greatest site in the world won't work if no one can find it. Our services begin with an initial audit of your website, and then we follow through with recommendations, on-page SEO during design and implementation, plus on-going audits and modifications as needed.

Content Strategy, Development & Management
What you say and how you say it matters more than ever. Be smart about reaching out to where your current and potential customers are and delivering content that invites engagement. We are your partner for strategy, development and management of eNews/blasts, blogs and social media, as well as an integrated approach to all your content. See what we did for Anderson's.

User Experience, Interface Strategies & Design
It takes a lot of work to get people to your website… Don't drop the ball now. We can help you create powerful experiences on your digital properties that inform and engage your audience. Through a deep understanding of your users and thoughtfully designed interface elements that are attractive and easy to access, your online presence can be a valuable, interactive experience. Read the LifeCents story.

Advertising
Beyond your brand story, we create advertising campaigns that drive results, whether we reach your audience through TV, Radio, Digital, Print, Outdoor, Guerilla or, well, whatever, wherever. Want to see a specific example? Check out what we've done for askHRgreen.org.

Public Relations
There are many aspects to campaigns, and you can be assured that your message will be consistent so your outreach has the greatest impact. Red Chalk Studios is your partner for strategizing special events, assisting in putting events together, writing strong press releases, and distributing them where they'll get the greatest exposure.

Media Planning & Buying
You want your messages to get the best possible ROI across all advertising media. So do we. Whether you're looking to promote your brand, sales, or lead generation, we can leverage our knowledge and relationships to deliver to you smart media strategy, buying, analytics, and optimization.