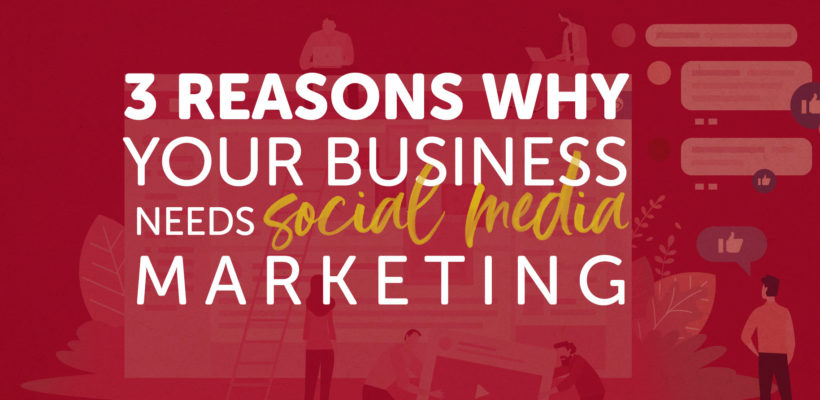 Your customers, your target audience, the eyeballs you want on your business are ALL on social media. They access social media on their phones while they're walking, on their computers while they're working, and on their tablets while they're on the couch. Facebook, Instagram, LinkedIn, Twitter, Snapchat, Pinterest… Social media is now so deeply integrated into our lives that asking someone to give it up would be like asking them not to breathe.
Why do you need social media marketing for your brand and business?
1. Sheer Exposure
When people are on social media they have a variety of tasks in mind — catching up with friends, shopping, planning their weekend, reading headlines, etc., which makes social media indispensable due to its versatility and frequency of use. Making your business a part of this indispensable platform keeps it top of mind for consumers no matter their intent.
Say one of our team is checking in with her cousin in North Carolina and there's an ad reminding her that "This Is Us" is on tonight. Or she's looking for dinner recipe recommendations and there's an ad for a KitchenAid food processor. She's doing something else and then there YOU are… Or can be.
Unlike the search engines where advertising is a response to someone's active search, social media is about putting yourself out there in bulk in order to gain exposure.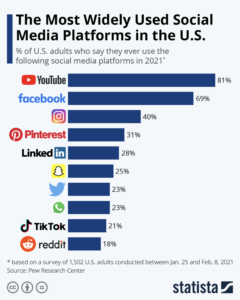 Across the board, all social media platforms saw an increase in usage in 2021 with no signs of slowing down. This is a huge audience — so why wouldn't you want those eyes on your business?
2. Targeting
One of the standout characteristics of paid social media marketing is its ability to highly target and hone in on your ideal audience. It's not just money well spent; this is money exactly spent.
Here are some of the ways you can target your ads on social media:
Facebook/Instagram: age, gender, location, interest (like wine, dogs, board games, agriculture, etc.) and behavior (if you have an upcoming anniversary, if you're an expat, if you've returned from traveling a week ago, etc.)
LinkedIn: location, connections, company industry, age, field of study, job title
Pinterest: interest, keyword, engagement, location, language
Twitter: target followers of relevant accounts, device, shopping patterns, keyword, age, gender
This is a triple-win for the advertiser, the consumer and the social platform. As the advertiser, you know your marketing dollars (before one dollar is even spent) will go toward an audience that's prequalified to convert. That's hard to say about traditional marketing mediums.
As the consumer, the ads we see truly are more relevant to our interests. Say one of our Red Chalkers loves wine, traveling and TV — all things she posts about regularly, which is the reason she rarely ever see ads for baby items; she just doesn't fit that advertiser's target audience.
As the platform, she's delivering quality results and a fun experience to both sets of her customers, and monetizing those ad clicks on top of that. Everybody wins with proper targeting.
3. Communication
From tagging, hashtags, post content, post comments to direct messaging — social media opens up various, new lines of communication between you and the world. And more importantly, it allows your brand to communicate with personality and emotion in a more direct and immediate way. You know, like a person would. And as a brand, that is highly valuable.
While social media has opened up exciting and new ways to communicate with our target audiences, it's also given us new challenges.
While there are crossovers, each platform does serve a unique purpose. What works on one will most likely not be as successful on another. For a quick overview, see our article about the differences and how to identify which platforms may be the best for you.
Connecting one-on-one in a world full of ones is tricky. Adding social media marketing to your toolbox provides that opportunity and keeps your business moving forward.
By now, you may be thinking this is going to be a lot of work and wondering how are you supposed to keep up with creating posts with great content, optimizing ads, figuring out how to even launch an ad campaign with all the different platforms…  That's when you hire talent, like an agency, and let them take care of it for you.
Consider the number of eyes that aren't on your business, but are on your competitors'. Are you ready to be social? If you are, let's get started!