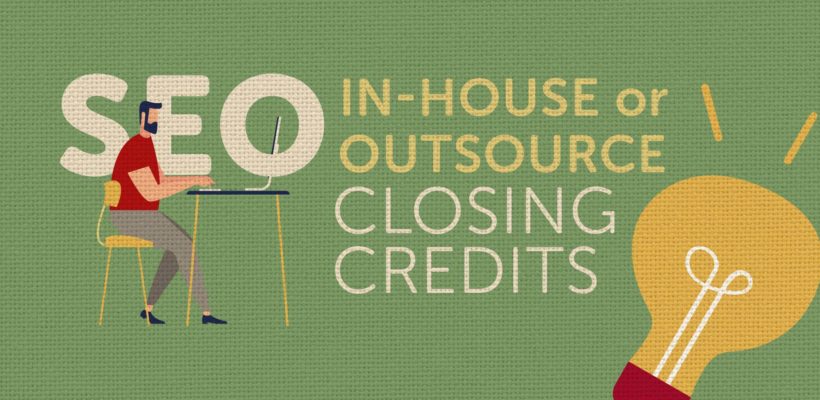 Time, money, staffing, secret clues to buried treasure — it ALL has to be considered when deciding whether to hire an in-house SEO team or to outsource to an agency. In our previous posts, "SEO. In-House vs Outsource" and "The Sequel" we reviewed the major factors to consider such as budgeting, staff requirements, time and more. (Because it's never simple, right?)
In our closing credits, we'll weigh in on two final factors as you deliberate how to proceed: perspective and communication.
Perspective and exposure are important considerations.
While an inside team will no doubt be an expert in your company, they may not have the exposure to what others are doing and trying, or what's succeeding and failing. An employee's time can quickly become limited and industry research can go by the wayside as easily as the pilot of a new TV sitcom.
An agency, simply by being an agency, has exposure to a variety of strategies and tactics implemented by multiple businesses.
They won't share with you the confidential details of course, but they will have a large pool of successes and failures to use when developing your specific strategy. They will also keep up with significant trends and best practices, which are important to know as you plan and develop your tactics.
Communication is key.
This is another big one. It may be imperative to have your staff attend all business meetings, so if it's necessary to have SEO employees within earshot, consider hiring in-house.
It is possible to develop a strong partnership and communication flow with an agency, especially a smaller, boutique, local agency (shameless Red Chalk Studios plug).
If it takes one meeting a month and regular emails to get everyone on the same page, then working with an agency will fit right into your normal communication workflow. An added perk is when the agency is local so they can stop by or have in-person meetings—maybe even a happy hour or two.
Doing both is also an option.
Of course, you can do both! That's why this article exists — there is no universal answer for your business. You do not have to pick one or the other; you can take advantage of both options if it makes the most sense for you.
As the credits roll…
Before you leave the Red Chalk blog, here's a quick recap.
Start with an analysis of time and money.
Then consider staffing options — whether there's already a great candidate at your company or not and whether you'll need multiple people with SEO expertise.
Keeping up with this ever-changing industry is imperative to stay on top.
And communication with an agency is not as difficult as it sounds.
And with that, we say, "Good night." Thank you for checking out our three-part "In-house vs. Outsourcing" series. If you haven't read them already, check out part one "SEO. In-House vs Outsource" and part two "The Sequel," because, well, they go together.
Have questions or want to chat about your marketing needs? Red Chalk Studios is here for you!