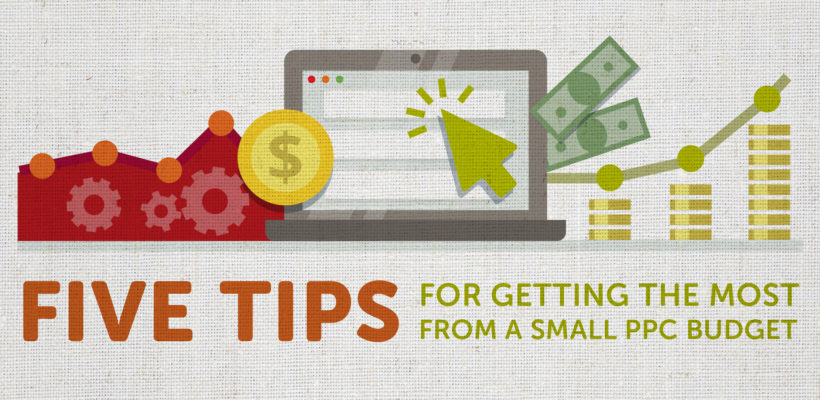 Your "small" could be someone else's "big." Who knows? What we do know is that "small" is subjective. Say you're a small business. It's probably not small to you… So, no matter the actual size of your business, it's common to have a limited marketing budget. Splitting it among all the channels you want to use is also tricky. Prioritizing your spend and where to put it — fun, right?
If pay-per-click (PPC) is one of those channels (and it should be, it absolutely should be), here are five tips to help you get the most out of your small PPC budget.
1. Pick one goal.
That's right… One. Honesty time: Right now, with a small budget, that's all you can afford.
Having a single goal may seem like it's not worth pursuing as it's likely you have several for your business growth, but this is a smart place to start.
With one goal you'll have a super, single focus on keywords, ad copy, landing-page messaging and, most of all, RESULTS. Having a single-focus goal will work in your favor when "proving" results, which can lead to a bigger budget.
2. Pick one search engine.
Similar to the tip above, right now you can only afford one search engine. You'll have to do some testing here so go ahead and create both a Google Ads account and Bing Ads account.
Google = more traffic = more competition and more expensive
Bing = less traffic = less competition and your dollars may go further
Depending on your industry, you may get more bang for your buck in Bing.
We have run Bing-only campaigns for clients in the past because there were enough folks within their target demographic to produce clicks, but this is very, very dependent upon the industry and campaign.
Advice? Try Google for a month, try Bing for a month, then do some comparing and analyzing.
3. Choose a small audience and placement.
We wish advertising to the universe were affordable, but it's not.
With a small budget, you'll need to hone in on the most ideal audience for you.
Start with geography. Are you a brick-and-mortar business? Start with a radius around your store (NOT a large radius).
If you're an online store, are there geographies where sales are more likely to occur? Is it more cost effective to ship to a certain area? Start there.
If you have a service or delivery area, the same concept applies; where do you want to drum up additional business?
If your allotted daily budget isn't spent because there isn't enough search demand, you can always increase your radius based on performance. But start small and expand out.
Keep an eye on your Search Impression Share metric, too.
In addition to how the budget actually performs, Search Impression Share will give you an indication as to how much more market reach you have left to, well, reach.
If your Search Impression Share is the dreaded <10%, you have a strong case for a bigger budget because your campaign is missing 90% or more of the potential audience.
If your campaign is at 50% or above, you can keep it as is if you like the results you're getting, or you could expand a little at a time.
We're typically happy with 40% to 50% because that indicates the campaign is getting results, but that there's room to grow. Keep in mind that the larger the radius, or geographic area, ythe more competitive it's likely to be, which ultimately means it's going to be more expensive and could be counterproductive to your small budget.
4. Understand that timing is everything.
Using your website's analytics, you can determine which days of the week and times of the day your audience is the most active. Use your PPC budget wisely and advertise during those times.
Additionally, if you want someone to answer the phone or respond to emails quickly when customers reach out, only advertise during the time you have the staff to do so.
Similar to geography, you can always expand based on performance, but starting here will save you some dollars.
5. Track results for free.
If you don't have a large marketing budget to spend on PPC, it may not be possible to invest in a lead-attribution program either. This means you won't have as much data to make the correlations between marketing efforts and leads or conversions. But fear not, there are other options.
Google and Bing both offer ways to track conversions coming directly from their PPC campaigns, so make use of that code (or nicely ask your web builder to make use of that code).
And make the most out of Google Analytics. There are a lot of conversions that are super simple to set up and they track back to the source/medium. Get familiar with UTM tagging for a deeper dive, but cover the basics in Google Analytics, Google Ads and Bing Ads and you'll be at a nice starting spot.
That's a lot! And if, for whatever reason, these steps just aren't for you, give us a call. We're always here to help.