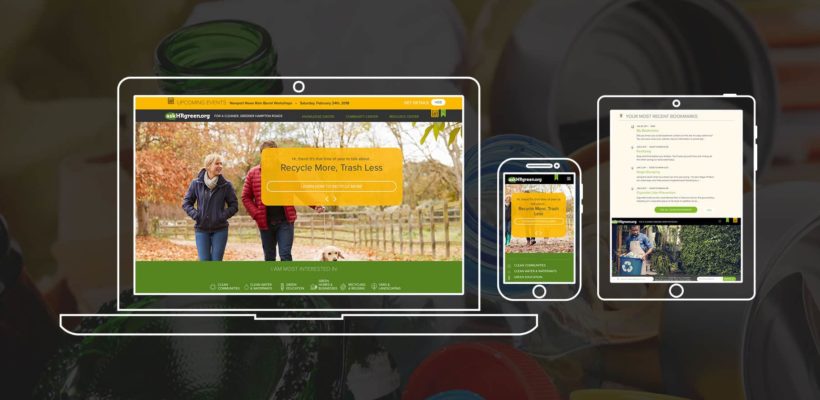 We are untying a big red bow on a big green website…
Want to know exactly what you can recycle in your city? AskHRgreen.org. Want to find out where you can find the next rain barrel workshop? AskHRgreen.org. Want to bookmark information about native plants or share a tip card about soil testing? AskHRgreen.org.
We have always been happy and so very proud to partner with the Hampton Roads Planning District Commission (HRPDC) and help them market their environmental education program, askHRgreen.org. We have been the agency of record since 2010, and while we launched their original askHRgreen.org site in 2011, there has been a sea change in e-communications, viewing devices, marketing tools and opportunities, and, well, viewing behavior. It was time for a new site!
TA-DAAAAA! Red Chalk is thrilled to launch the new askHRgreen.org site! In a word, it ROCKS.
Our goals for the new site included:
Delivering a good visitor experience across all browsing devices (desktop, laptop, tablet, phone)
Presenting relevant and valued content that's easily found, read, filtered, saved and shared
Designing an inviting visitor experience that encourages and rewards discovery
Building upon and strengthening the brand values and promise
Always presenting the visitor with informative and actionable information
Developing a more flexible back-end structure for our content managers
Features we're fond of:
Dynamically-delivered content throughout the site, presenting topic-relevant information to the visitor at every point
Content modules that allow filtering based on category, media type, specific business, date published and location
A bookmark function, allowing content to be saved for later reference or reading
Big and visually-engaging tip cards that can be easily shared and downloaded
An easily found and extremely robust media toolkit to house all marketing assets, available for partners and the public to use and share
Content "counters" that quickly reveal how much more there is available within each category and content-type
Content that can be auto-activated and deactivated
The new askHRgreen.org is a Swiss Army Knife of a resource and allows a visitor to truly "ask" about a particular topic and be rewarded with the results.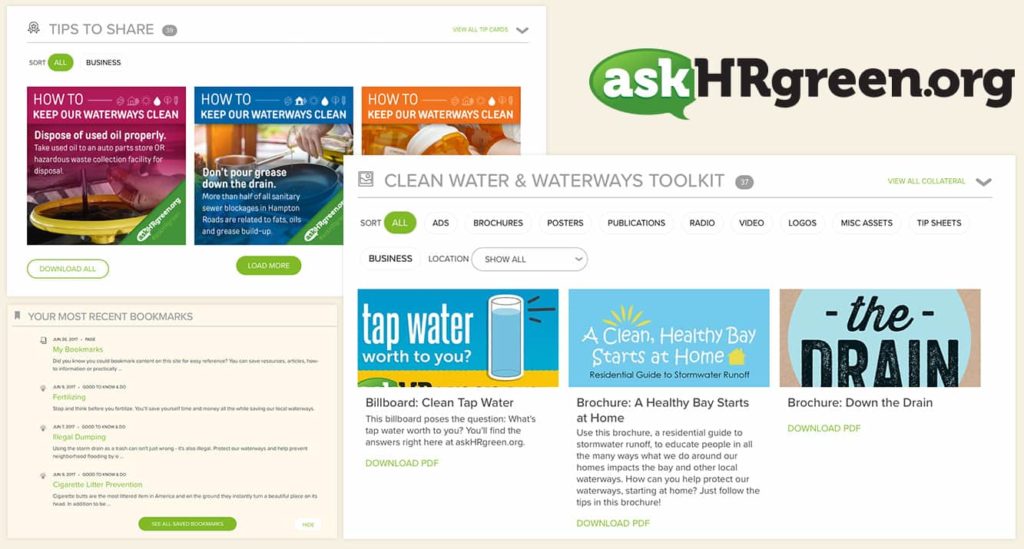 We especially want to thank our wonderful team members and client partners, Katie Cullipher and Rebekah Eastep with HRPDC, as well as all of our askHRgreen.org committee members who contributed both to the strategy and content. And now, we invite YOU to go exploring. All you need to do is askHRgreen.org.
Check out more work we've done for askHRgreen.org.