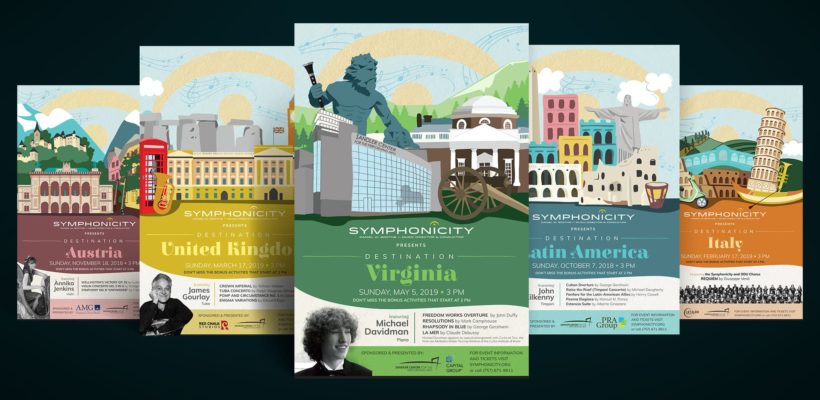 Symphonicity, the community orchestra of Virginia Beach, was at a turning point.

The founder and music director of the orchestra was retiring after 35 years, and the non-profit arts organization's board had created a committee to help them find a new maestro.
Enter Red Chalk Studios. 
Getting to know this group of passionate volunteers and musicians was job number one.

Next was understanding the task in front of us and quickly moving forward to help Symphonicity update and strengthen their existing brand. We also created a new website that better reflected who they are and what they offer the community, developed marketing pieces that built curiosity and excitement about the five candidate maestros, and drove attendance by familiar and new audiences to their individual concerts throughout the season.
In 2017, Daniel W. Boothe, musician, composer, conductor and clinician, was chosen as the new music director and conductor for the Symphonicity orchestra and chorus.

According to Maestro Boothe,
Previous to working with Red Chalk on a direct capacity, I had already seen their work as a candidate.

And for me, that was really interesting because when I first applied for the position, the public-facing content was the old material, and then Red Chalk came on board in the candidate year, and I saw things change. It was distinctive and fresh.

It was a very exciting time, so all of that was building up within me until my first opportunity to work with Red Chalk. And then when I had that opportunity, I found that it all made sense. It was a very creative, energetic, collaborative experience the very first time we spoke together."

We appreciate the high praise, especially from Maestro Boothe. Why? He's not simply a talented musician and music director. He has branding and marketing training and experience, ultimately serving as the Social Media Manager for the Secretary of the United States Air Force.
Red Chalk is so proud to have worked with Symphonicity during this special time in the organization's life and the first years of Maestro Boothe's tenure.
The role that Red Chalk has played with our organization is that they have really been our go-to gurus, if you will, in branding and also in our overall messaging through our transition.

Transition from our 35-year past, and then the one-year candidacy year, and then having a new music director, and then the future to come.

They've been that bridge for us. They've helped teach us. They've helped mentor us. They've also taken our ideas and turned them into products that gave us an edge and have really set us up for the future."